Bright Futures in Chemistry
May 29, 2009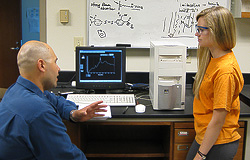 Weeks after most students have left campus, a number of DePauw laboratories remain open for science. Richard C. Martoglio, assistant professor of chemistry and biochemistry, and two chemistry students are among the researchers whose work continues into the summer.
Using a process called surface enhanced Raman spectroscopy (SERS), Martoglio and Virginia J. Bruce '12 of Hopkinsville, Ky., are investigating the reactions of molecules that have been absorbed into the surface of a metal. They begin by using a colloidal solution of a metal – for example, tiny particles of silver suspended in water – to coat the inside of a glass vial. After adding a reagent to the coated tube, a laser spectrometer can be used to report any reactions that take place between the metal and the reagent solution.
"By using SERS, we can create the surface we want inside the vial itself, which can then be tested in a laser spectrometer," Martoglio says.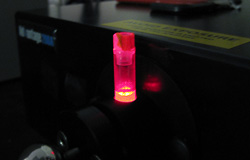 The spectrometer (shown right) gives Martoglio and Bruce real-time information about the reactions happening at the metal's surface, versus other testing methods that produce only before-and-after results.
With Brian J. Groendyke '12, a native of Mishawaka, Ind., Martoglio is looking at ionic liquids – salts that melt at room temperature or below – and how they either corrode or inhibit the corrosion of metal. Often referred to as green solvents, ionic liquids are thought to be safer alternatives to volatile solvents such as acetone, and they have other inherent properties that suggest a broad range of applications in science, industry and medicine. However, while their potential is frequently discussed, little research has been done to investigate other side-effects of their use.
"This is new for me," Martoglio says. "It's the first work I've done with ionic liquids and I'm learning something every time we do a test."
When Martoglio was planning how to include students in his research, he had to find ways to investigate something entirely new to him while also providing an exciting experience for two young scientists.
"The science behind summer research projects should be accessible, and I think this really is," Martoglio says. "One of the good things about using instrumentation like the spectrometer is that the training is fast, so you have a lot more time to discuss the outcomes and what's happening chemically. Because of that, no matter how complex the science seems, the students really can do it."
"A lot of times, over the course of looking at the data we collected, a students will have an 'ah ha' moment about something I may have overlooked," he adds.
Ultimately, Martoglio's goal is to publish their research. When that time comes, Bruce, Groendyke and other students who continue their work will share the credit with him.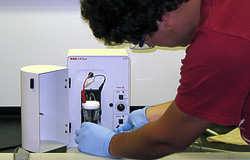 The research puts the two students – both only a year removed from high school – on unfamiliar ground, but Bruce and Groendyke (left) are enjoying the opportunity to explore a potential career with the one-on-one support of a professor.
"Sometimes you wish you had the result so you'd know you're going in the right direction, but I like being able to make up the experiment as you go," Groendyke explains. "You can say, let's just see what effect this has on the system."
"I used to love math because there was always a correct answer, but I'm enjoying the research because it's so much more free," Bruce adds. "You try things - and most of the time you're wrong - but you're learning how to get where you want to be. ... I took chemistry as a sophomore in high school. It was a pretty laid-back class, so I didn't have much experience when I came here. All my professors have helped me by answering my questions, and I feel much more confident now. It was a little extra work on my part, but it paid off."
Martoglio argues that the research experience will benefit students like Bruce and Groendyke outside of the classroom, as well.
"Regardless of what these students are going to do after they leave DePauw, this research is important because each day they're dealing with the unknown," he says. "Applying what you know to solve a problem is important to any career you choose. You have to try to make sense of what it is you're seeing, and whether or not you should believe what you're seeing and whether it's reproducible."
Back