Daniel Bretscher '06 Wins Terre Haute Triathlon, Breaks Record
May 31, 2009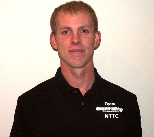 May 31, 2009, Greencastle, Ind. — "Records are meant to be broken, and it came as no surprise that Greencastle native Daniel Bretscher broke the course record Saturday in the 24th Terre Haute Triathlon at Hawthorn Park," begins a story in today's Terre Haute Tribune-Star. "Bretscher, a 25-year-old who was the USA Triathlon Elite Rookie of the Year after an impressive 2008, finished the Terre Haute course in 1 hour, 35 minutes and 56 seconds," notes the report. Bretscher -- "a former cross country runner at DePauw" -- is a 2006 graduate of the University.
"Being from Greencastle this is the closest thing that I have to a hometown race so I'm pretty excited to come here," he said after the competition. He also offers advice to those interesting intaking up triathlon. "First off, start slow, do a nice short race. Then just research local clubs, local groups that work out together and get in with a workout group. Others can teach you so much. Just start out nice and short, maybe do a relay." (below right: Bretscher crossing the finish line at the 2008 Spirit of Morgantown)
Craig Pearson writes, "Sponsorships allow Bretscher to compete all around the country and make a living as a professional, which requires many hours of training. Bretscher said he typically swims between 20,000 and 30,000 yards per week, logs 300 miles per week on his bike and runs more than 70 miles each week. For the record, he also mentioned quality naps as helping make all that training possible."
The article also points out, "Bretscher said he always knew triathlons would be his calling as an athlete so he decided to race for a year or two after graduating from DePauw University. It obviously went well as he went professional last year."

"I didn't quite know what to expect going out to that new level of racing," Bretscher says. "Just put in the training and the racing was there, it went great."

Read the complete story at the Tribune-Star's Web site.
Learn more about Daniel Bretscher in this previous story.
Back