"Obama Administration's Early Promise is Being Squandered," Opines Prof. Kevin Howley
June 1, 2009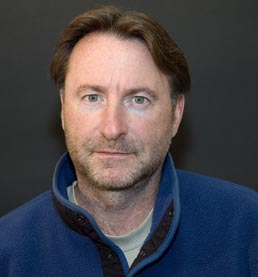 June 1, 2009, Greencastle, Ind. — An exhibition of "inspired art for Obama" at the Chicago Tourism Center left Kevin Howley with "palpable sense of possibility and promise captured by the campaign art. And yet, as I took in all of this passionate and provocative work, I couldn't help but wonder if the inspiration is at an end," writes the associate professor of communication at DePauw University in the Bloomington Alternative.
"For a great many progressives, the Obama administration's early promise is being squandered," declares Dr. Howley. "When he first took office, it seemed that Obama was committed to transparency and accountability. Since that time, however, he has stepped away from a number of key campaign promises. For instance, Obama's reversal on detainee detentions and his unwillingness to release incriminating photos from Abu Ghraib has angered some of his most ardent
supporters. And his continued acquiescence to Wall Street bankers isn't winning him any friends among the rising tide of unemployed Americans, either. And just this past week, his U.S. Environmental Protection Agency okayed 42 permits for mountain top removal coal mining in West Virginia."
The professor adds, "Of course, the Democratic leadership in Congress hasn't been making the president's job any easier. Their stunning rebuke of his efforts to close the detention camp at Guantanamo Bay is but the latest demonstration of weak-kneed liberalism at its most contemptible. Just for the record: these are the same Democrats who enthusiastically voted to increase military spending in Afghanistan and Iraq."
In Howley's view, "Despite Obama's promise of 'change' and his commitment to a 'new kind of politics,' the president is in a tough spot. Confronted with the realities of entrenched interests and partisan politics, it seems that Obama is growing less bold, more cautious by the day."
The op-ed concludes, "Perhaps its time for us to return the favor. Last year's presidential campaign was enthralling in large
part because Obama inspired passion and political commitment. But if he is to fulfill his promise, we've got to inspire him with all the energy, intellect and creativity we can muster."
You'll find the complete essay at College News.org.
Over the weekend, Kevin Howley was quoted in a Palm Beach Post article on the upcoming animated feature, The Princess and the Frog, which features Walt Disney Studios' first African-American princess, Tiana. Read more by clicking here.
Back