There's "Room for Both" Traditional & Internet Radio, Says Prof. Bob Steele '69
June 1, 2009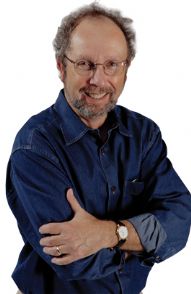 June 1, 2009, Greencastle, Ind. — Whether sound is transmitted over traditional broadcast radio or Internet sites, "Certainly for now, I believe there's room for both," says Bob Steele, Eugene S. Pulliam Distinguished Visiting Professor of Journalism at DePauw University. Dr. Steele is cited in a Grand Rapids Press story which examines the moves of all-sports WBBL to the FM dial at 107.3 and modern rock outlet WKLQ, which was on FM, to an online-only operation.
Steele tells the newspaper that while he doesn't see traditional, over-the-air broadcast stations disappearing en masse, "Online (radio) offers a terrific possibility both in the distribution of sound and combining that with imagery and text -- taking the content to other levels with the multimedia aspect."
The complete story can be found by clicking here.
A 1969 graduate of DePauw, Bob Steele also serves as the Nelson Poynter Scholar for Journalism Values at the Poynter Institute for Media Studies in Florida. Learn more about him in this recent article.
Source: Grand Rapids (Mich.) Press
Back