R. David Hoover '67 Elected to Eli Lilly & Co. Board
June 2, 2009
June 2, 2009, Greencastle, Ind. — R. David Hoover, chairman, president and chief executive officer of Ball Corporation and 1967 graduate of DePauw University, has been elected to the board of directors of Eli Lilly and Company (NYSE: LLY). Hoover, who chairs DePauw's Board of Trustees, will serve on both the audit and compensation committees of Lilly's board. He will serve under interim election and will stand for election by Lilly shareholders at the company's annual meeting in 2010.
"I am very pleased to welcome Dave Hoover to the Lilly board," says John Lechleiter, Ph.D., Lilly chairman and chief executive officer. "Throughout his nearly forty year career at Ball Corporation, Dave has demonstrated both strong business leadership and deep financial acumen. Dave has been one of the key architects in transforming Ball Corporation into a hi-tech, diversified concern. As Ball's chairman and CEO, Dave has successfully guided the company with a clear focus on growth and innovation, while at the same time advancing Ball's sustainability efforts. His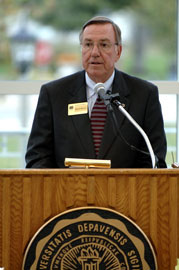 experience and insights will surely benefit Lilly shareholders as we continue to transform our company and deliver on our mission to provide improved outcomes for individual patients."
Hoover has been the chairman, president and chief executive officer of Ball Corporation since April 2002 and has been president and CEO since January 2001. He joined Ball Corporation in 1970. During his career, he has served as vice president, finance and administration, of both the company's agricultural systems division and the company's aerospace systems group. He was elected vice president and treasurer in 1988 and senior vice president and chief financial officer in 1992. He was named executive vice president and elected to the company's board of directors in 1996. In 1998 he was elected vice chairman, in addition to the role of chief financial officer. Hoover became president of Ball Corporation on January 2000, and was named chief operating officer in April 2000.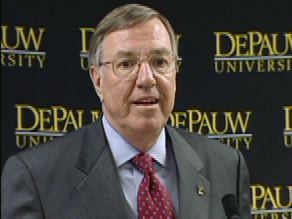 An announcement notes that that David Hoover serves on a number of other boards, including Energizer Holdings, Inc., Qwest Communications International Inc. and Irwin Financial Corporation, the National Association of Manufacturers, Boulder Community Hospital, and DePauw's.
You'll find more at Yahoo! Finance.
In 2006, David Hoover received the University of Denver's "International Bridge Builders Award." Details can be found in this story.
Back