Prof. Jeff McCall Analyzes CBS' Winning Strategy in Ad Age
June 2, 2009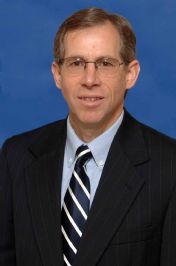 June 2, 2009, Greencastle, Ind. — An Advertising Age story that begins by stating, "Over at CBS, offbeat is off the schedule," quotes a DePauw professor. Brian Steinberg writes, "viewers who flock to trendier programs often are lured in by the hot factor and don't stay for the long haul, said Jeff McCall, a professor of communications at DePauw University in Greencastle, Ind. Broad audiences may prefer scripted fare that is 'more like a movie, as opposed to watching something that's a game show or something's that's a reality show or something's that's kind of goofy' and can be found on lower-rated rivals, he said. As long as CBS is willing to live with an audience that is older than those of its competitors, he added, 'I wouldn't upset the apple cart if I were them.'"
The article points out that CBS is winning with a "steady but reliable" approach to programming, eschewing "edgy" programs for those which reach broad, reliable audiences. The network experienced an 11% increase in total viewers for the 2008-2009 season, notes Ad Age.
The complete story can be found at the publication's Web site.
A 1976 graduate of DePauw, Jeff McCall is a widely quoted expert on media matters and has been cited in articles published by approximately 100 newspapers. He recently talked with the Press of Atlantic City about TV's Jon & Kate Plus 8 and the effects of using children within reality TV shows. Dr. McCall also published an April 16 op-ed in the Atlanta Journal-Constitution on the way network TV programs depict marriage and recently discussed the future of satellite radio with Canada's Macleans.
Professor McCall is author of the book, Viewer Discretion Advised: Taking Control of Mass Media Influences.
Source: Advertising Age
Back