Report That Journalist is Dating LA Mayor "Undermines Credibility": Prof. Bob Steele '69
June 2, 2009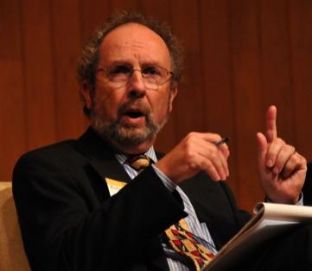 June 2, 2009, Greencastle, Ind. — "There's every reason to question whether there are competing loyalties that create a conflict of interest that undermines the credibility of the watchdog," Bob Steele says of the reported relationship between Los Angeles Mayor Antonio Villaraigosa and KTLA-TV reporter Lu Parker. Steele, Eugene S. Pulliam Distinguished Visiting Professor of Journalism at DePauw University, is quoted in a KABC report on the alleged dating relationship, which the station says began in March.
The ABC station's report notes, "Steele saw the fallout when another journalist dated the mayor. Villaraigosa was still married two years ago when he had an affair with KVEA anchor Mirthala Salinas. It stirred questions about his character and the failure of the newsroom staff to disclose early on what he knew. The station hired Steele to conduct ethics workshops."
According to KTLA News Director Jason Ball, "Now that we're aware of the relationship, she will no longer be covering local politics." But
the KABC story notes, "Yet this weekend she read a story involving the mayor in the run for governor."
Read the story at the station's Web site.
A 1969 graduate of DePauw, Bob Steele is one of the nation's top experts on journalism ethics. He also serves as the Nelson Poynter Scholar for Journalism Values at the Poynter Institute for Media Studies in St. Petersburg, Florida. Learn more about him in this story from yesterday.
Source: KABC (ABC)/Los Angeles
Back