Prof. Istvan Csicsery-Ronay's Seven Beauties "Remarkable," Says Reviewer
June 3, 2009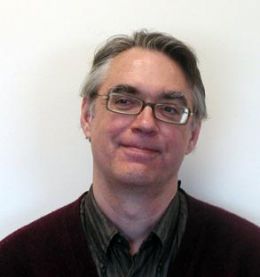 June 3, 2009, Greencastle, Ind. — "Istvan Csicsery-Ronay's book The Seven Beauties of Science Fiction is an indicator of how we might move beyond the gap between the scholar and the fan, the elite and the popular notions of SF," writes Eugene Thacker in Leonardo Reviews. "In a way, Csicsery-Ronay's book signals a third kind of figure beyond the scholar and the fan, which we can, a bit tongue-in-cheek, call the SF 'dweller,'" adds Thacker, an associate professor in the Georgia Institute of Technology's School of Literature, Communication & Culture. Istvan Csicsery-Ronay Jr. is a professor of English at DePauw University.
Thacker continues, "Whereas both the scholar and the fan are beholden to the specialized, genre-based status of SF, the dweller is not only the person who lives in SF story worlds, but the person who takes it for granted that the actual world must be understood in terms of SF. It is this expansion and diffusion of SF that constitutes the overarching concern of Csicsery-Ronay's book."
According to the reviewer, "Csicsery-Ronay has done something remarkable -- he has posed a number of philosophical questions concerning SF itself, while, at the same time, providing a set of conceptual tools for understanding SF as a genre and as a narrative form. Csicsery-Ronay is in a good position to do this; for a number of years he has edited the journal Science Fiction Studies, and SF scholars are well-aware of his important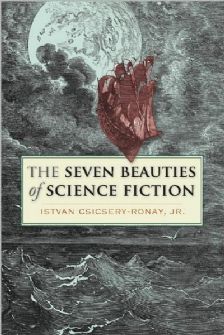 essays on SF, in which he has consistently tried to think about SF outside of the genre itself (his essays on globalization and SF, and on postmodern theory and SF, are noteworthy in this regard). Csicsery-Ronay avoids the more predictable routes of deliberating over the definitions of SF, as well as re-telling the history of SF. Instead, he borrows from classical aesthetic theory, to talk not about definitions or history, but the major figures that together constitute SF -- this is something like the 'poetics' of SF."
Leonardo Reviews is a scholarly review service published since 1968 by Leonardo, the International Society for the Arts, Sciences, and Technology.
Access the complete essay by clicking here.
The Seven Beauties of Science Fiction was also recently reviewed by British science fiction critic Paul Kincaid.
In November 2008, Professor Csicsery-Ronay discussed his book on the Public Radio International program, To the Best of Our Knowledge. Learn more in this story.
Back