Prof. Jeff McCall '76 Discusses "Politicization of Hard News" on TV's O'Reilly Factor
June 3, 2009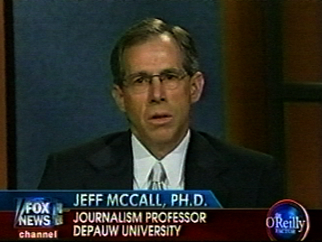 June 3, 2009, Greencastle, Ind. — A segment on the nation's top-rated cable TV program examining media coverage of two recent events featured Jeff McCall, professor of communication at DePauw University. Host Bill O'Reilly noted that Dr. McCall is the author of Viewer Discretion Advised: Taking Control of Mass Media Influences, as he welcomed the professor on tonight's edition of FOX News Channel's O'Reilly Factor.

[Download Video: "Prof. Jeff McCall '76 Introduced" - 477kb]
Professor McCall was joined in the discussion by Joe Strupp, senior editor of Editor & Publisher.
Why, asked O'Reilly, was the murder of abortion doctor George Tiller front page news in the New York Times, while the killing of Private William Long -- who died in an attack on a recruiting station in Little Rock, Arkansas -- received placement on page 16 of that newspaper. Two TV networks "totally ignored the Long story,"
according to O'Reilly. "All three networks extensively covered Tiller."

[Download Video: "The Professor Responds" - 1619kb] "No two stories are the same," McCall responded, "and we don't want every story covered through a template. And these stories are different in that Tiller is probably a more high profile person than Private Long."
However, Dr. McCall does see similarities in the stories in that both involve "heinous crimes" and contain "political overtones. And having said that, the coverage has not been nearly the same, as you indicated. The coverage has been much different in volume and in tone."
The professor also notes that President Obama has been working to build relations with the Muslim world and the fact that Private Long's killer is an American Muslim raises sensitivities that may be a factor in the story's lower profile.

[Download Video: "The Narrative" - 1501kb] "It doesn't fit the narrative of the media," McCall asserts.

[Download Video: "More from Dr. McCall" - 1514kb] The DePauw professor objects to occasions when "a story is being covered through a political lens." O'Reilly tells McCall "you hit it -- the politicization of hard news" is the problem he sees.
The appearance marked McCall's eighth on O'Reilly Factor, which averages about 3.5 million viewers a night. The last time the professor appeared, on January 31, 2008, he discussed the "polarizing kind of communication" that can be found on some talk radio programs.
A 1976 graduate of DePauw, Jeff McCall is a widely quoted expert on media matters and has been cited in articles published by approximately 100 newspapers. He recently talked with the Press of Atlantic City about TV's Jon & Kate Plus 8 and the effects of using children within reality TV shows and offered analysis to Advertising Age on the ratings success of CBS. Dr. McCall also published an April 16 op-ed in the Atlanta Journal-Constitution on the way network TV programs depict marriage and recently discussed the future of satellite radio with Canada's Macleans.
Source: Fox News Channel
Back