Kids "Can't Opt Out" of Reality Shows, Prof. Jeff McCall '76 Writes in Atlanta Journal-Constitution
June 4, 2009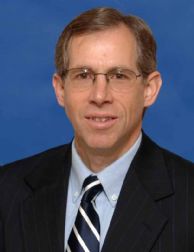 June 4, 2009, Greencastle, Ind. — "Without eight kids to parade around on television, nobody would care about Jon and Kate Gosselin or their supposed marital troubles," begins an op-ed by Jeffrey M. McCall, professor of communication, published in today's Atlanta Journal-Constitution. The couple's marital problems have boosted the ratings of TV's Jon & Kate Plus 8, Dr. McCall notes. "Jon and Kate are adults and can decide for themselves how much of their personal laundry they want to air in front of the nation's television gawkers. Their kids, however, are another story. They can't opt out."
The professor -- who authored the book Viewer Discretion Advised: Taking Control of Mass Media Influences -- asserts, "Growing up in the fishbowl created by national television automatically changes the kids' lives, and not necessarily for the better. Privacy is sacrificed. Emotional moments become 'good television' in the eyes of the producers. Years from now, the kids will still be
identified as the Plus 8. The chances of their having regular lives are by now pretty slim, and they are getting smaller with each episode and each rumor about their parents' problems."
A guest on last night's edition of FOX's O'Reilly Factor, McCall adds, "Kids in reality television shows, by the way, aren't protected under the same regulations that child actors for movies or television dramas are. None of this is to say the Gosselin kids are being abused or intentionally harmed, but a life in front of a television production crew is not a normal life," pointing to other examples of reality shows which featured children, including Baby Borrowers and Kid Nation.
"It was one thing when the Gosselin kids were younger, the show had low ratings and the parents were leading the happy lives of a young married couple," states the professor. "The increased ratings, the ages of the kids and the national attention gathered by a potentially messy marital situation changes the equation ... Now, it would be best if the network producers would do the responsible thing and draw this show to a quick, happy ending, letting the Gosselins depart to find a family life out of the limelight. Jon seems hinting that he is ready for the show to end, complaining in recent interviews that the family has no privacy and saying,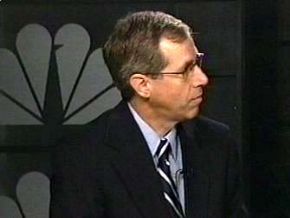 'I did not sign up for a public scrutiny of everything.' American viewers could help push that network decision by leaving the Jon & Kate audience and finding programs to watch that don't exploit children." (at left: Jeff McCall on Chicago's NBC5/WMAQ-TV)
Read the essay in full at College News.org.
A 1976 graduate of DePauw, Jeff McCall is a widely quoted expert on media matters and has been cited in articles published by approximately 100 newspapers. He also recently talked with the Press of Atlantic City about TV's Jon & Kate Plus 8 and the effects of using children within reality TV shows and offered analysis to Advertising Age on the ratings success of CBS.
Source: Atlanta Journal-Constitution
Back