DePauw Pair at Bonn Climate Talks
June 4, 2009
Two DePauw students are among the 3,000 government delegates, scientists and environmental organization representatives who have gathered in Bonn, Germany, this week. The United Nations Climate Change Talks in Bonn (June 1-12) is the second of six major negotiation sessions leading up to a final meeting in Copenhagen in December of this year. The agreement that emerges from Copenhagen will ultimately replace the Kyoto Protocol, which expires at the end of 2012.
Anthony M. Baratta '11 and Taylor M. Cantril '11, both members of the DePauw Environmental Policy Project (DEPP), began planning their trip in May at the suggestion of Kelsey Kauffman, a part-time assistant professor of University studies.
"Going to Bonn for the preliminary climate negotiations is an amazing opportunity for Anthony and Taylor," Kauffman says, "I can't think of any students who deserve this opportunity more or would make more of it than they will."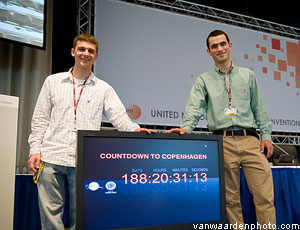 Baratta and Cantril (left) are searching for answers to three questions that prompted their trip: how does the process of negotiating international climate treaties work, is it possible for non-diplomats such as them to affect the negotiations, and can the major political bodies of the world agree on an international strategy for mitigating and adapting to climate change? To report back on the answers they find at the Bonn talks, Baratta and Cantril are blogging their daily activities.
"I'm looking forward to learning as much as I can about international climate policy discussions," Cantril says. "I've been involved at the campus and state levels, but this will be a whole new process with new procedures, players, interests and languages. Since neither the responsibility for climate disruption nor its consequences are evenly distributed across the countries of the world, I'm especially interested in which voices are heard and which are dismissed in the international negotiations."
Although the United States is a signatory to the Kyoto Protocol, the gesture was largely symbolic as the treaty was never ratified. President Obama has stated that ratifying the Protocol as its expiration nears would mean very little and has instead focused on involvement in the talks leading up to Copenhagen. In Bonn, Baratta and Cantril are witnesses to a process that may result in the first international climate change treaty to include the full participation of their own country.
The two also hope to travel to Copenhagen in December to see the completion of the negotiations.
"Copenhagen is where all of the work from several years of conferences will come to a head," Baratta says. "The Bonn conference even has a Countdown to Copenhagen clock. These preparatory conferences are like an NFL preseason game, whereas Copenhagen is like the Super Bowl."
When they return to DePauw, Baratta and Cantril will continue their leadership on environmental issues. Their efforts contributed to DePauw President Brian W. Casey's signing of the Presidents Climate Commitment in 2008, but Cantril says there is more work to be done. "We have a long-term schedule of goals that range from developing a greenhouse gas inventory to making a plan to reduce our emissions, and finally to achieving climate neutrality."
For their updates from Bonn, visit thecopenhagenquestions.wordpress.com.
Back