Vernon Jordan '57 Discusses Obama, Supreme Court and DePauw on PBS' Tavis Smiley
June 4, 2009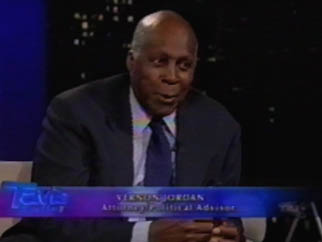 June 4, 2009, Greencastle, Ind. — "I give him an A for leadership," Vernon Jordan says of President Barack Obama. Jordan -- the civil rights activist, lawyer, political adviser and 1957 graduate of DePauw University -- appeared on PBS' Tavis Smiley program tonight. "I'm still pinching myself from election night."
Jordan added,

[Download Video: "The New President" - 1512kb] "That does not mean that we can now declare that the war is over, that the victory has been won" in the struggle for civil rights. "We've just elected him. What comes after an election is governance and leadership -- not just at home, but abroad, where he is now trying to deal with the issues of the Middle East. But I think he's ready, he's able and I think he's giving the kind of leadership that he promised us."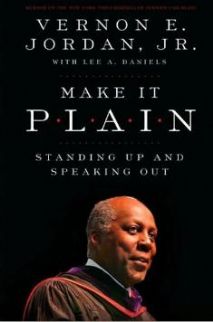 He added, "We cannot declare that victory has been won. We've just elected him. What comes after He's ready, he's able and he's giving the kind of leadership he promised us."
Regarding Republican objections over Obama's Supreme Court nominee, Sonia Sotomayor, Jordan said, "There's an old saying amongst us lawyers -- When the law's against you, pound the table with facts. If the facts are against you, you pound the table with law. If both are against you, you just pound the table. And so that's where Republicans find themselves now, they're just pounding the table. And quite honestly, some of it is idiotic."
Jordan's new book, Make It Plain: Standing Up and Speaking Out, is a collection of speeches he's delivered over the years. Known as of America's great orators, Jordan told Smiley his love for public speaking began in church when he was young, and was fostered by his college experience.

[Download Video: "Becoming a Great Public Speaker" - 3004kb] "I went to DePauw University in Greencastle, Indiana, and in my freshman year I won the Margaret Noble Lee Student Extemporaneous Speaking Contest," Jordan recalled.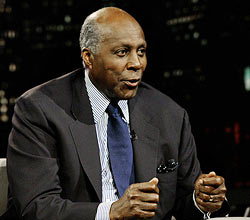 "The next year, at Franklin College in Franklin, Indiana, I won the Indiana Interstate Oratorical Contest, the first time a DePauw student had won it since Andrew J. Beveridge in 1896, who served in the United States Senate representing Indiana. I also went to church every Sunday," Jordan added, "and I learned to distinguish between substance and volume."
When it comes to living life,

[Download Video: "Personal Integrity" - 1333kb] "There is one guideline: integrity," Jordan told Smiley. "That is the only thing that I own, that is mine in the simple absolute." He added, "I am the only person who knows when I have breached it. And so whether I'm dealing in a corporate board room or whether I'm talking to leaders in the political system, if I keep that integrity in place -- for myself -- then it works out.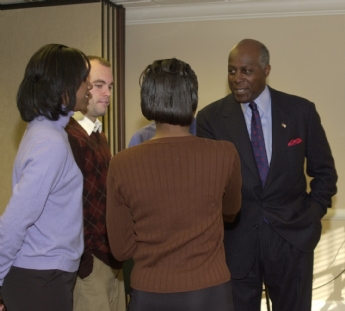 More clips are available at Tavis Smiley's Web site. There, you'll also find the complete segment.
Vernon E. Jordan Jr. served as president of the National Urban League and as executive director of the United Negro College Fund and was an adviser to Presidents Carter and Clinton. Next week, he will join Bill Clinton at a North Carolina tribute to the late historian and civil rights pioneer John Hope Franklin. Learn more in this story.
On June 9, 2007, Jordan delivered the silver anniversary address at his Class of 1957's 50th reunion.

[Download Audio: "June 2007 Address by Vernon E. Jordan Jr. '57" - 5451kb]
Back