Capturing the Impossible
June 5, 2009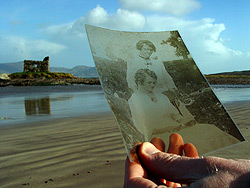 Photographs by Cynthia O'Dell, University Professor and associate professor of art, will be shown at the Indiana State Museum's Making it in the Midwest exhibition, beginning June 20 in Indianapolis.
"The heartland of America has consistently produced some of the nation's best art," reads the Museum's Web site. "Making it in the Midwest is the first major exhibition to explore the challenges facing working artists in the Midwest, and brings together an important array of historical works, many of which are in private collections and have not been seen publicly for decades. ... Contemporary work by 20 Hoosier artists who have succeeded in establishing artistic careers and raising their visibility shows that talent and creativity are thriving in the 21st century."
Making it in the Midwest will feature three photographs from O'Dell's Migrations series, created by superimposing images of her Irish-American family over the landscapes of their ancestral home.
"I am trying to recreate my own family album in an impossible scenario, and as a result I am creating a new story," O'Dell says. "Growing up, I was told that I was Irish. In Migrations, I was interested in posing the question, 'How do I make sense of that identity?'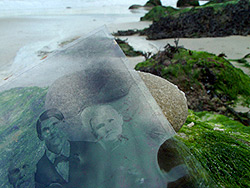 By symbolically taking my ancestors back to their native country, I attempted to complete the circle of their migration pattern – to convey loss while also exploring the redemptive and beautiful qualities of the Irish landscape in the midst of pain."
O'Dell's interest in photography began early. "There's a great quote from Dorothea Lange that she was taking photographs before she ever had a camera," she says. "Ever since I was little, I always felt that I was taking photographs in my head." She won her first camera in eighth grade in a contest run by the local newspaper in Muscatine, Iowa, where her father worked as the paper's circulations manager.
"I saw a camera in the prize catalog and said, 'I want that.' The contest was to sell the most newspaper subscriptions, so I did," O'Dell recalls. "The camera still works. I didn't replace it until graduate school."
After earning her M.F.A. in 1998, O'Dell looked for a "sustainable environment" – a place where she could teach and continue her art without the worries of the art market or shifting gallery culture.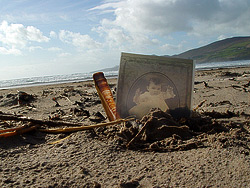 DePauw, she says, has given her that freedom. She now hears from students whose parents have similar concerns about the challenges of a career in art. While O'Dell agrees that an artist's life can be difficult, she argues that new fields such as animation and digital design have added even more job opportunities to a culture that is saturated in art.
"It's easy to assume that art is extra – that we don't need it – and that's something I take issue with. We do need it. Many people don't realize how pervasive visual culture is. Every document you look at, every object and every ad has been designed by an artist. There's value in knowing how to create those things, as well as there is in knowing how to be critical of them. The same way we train students to think or write, we need to train them how to see."
Back