Tony Award Nominee Alice Ripley '85 Featured in NY Times
June 7, 2009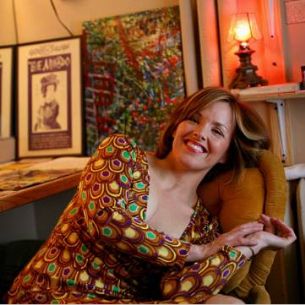 June 7, 2009, Greencastle, Ind. — The "nakedly anguished performance" of Alice Ripley, a member of DePauw University's Class of 1985, in the Broadway musical Next to Normal has earned her a nomination for a Tony Award and a feature in today's New York Times. Ripley stars in the musical as Diana Goodman, a bipolar wife and mother. (at left: Ripley in her dressing room; photo by Richard Perry/Times)
"Ms. Ripley's research for the part included reading extensively about depression in general and psychopharmacology in particular, as well as the observation of and interaction with people close to her, a favorite uncle and her personal assistant, Lisa Kasamoto, who are both bipolar," writes Bruce Weber. "Revelations continue to be delivered by daily life, so she's still tweaking, she said ... The striking thing about the role of Diana, who is onstage more or less throughout, is that her persistent emotional crisis is communicated
especially in song. After all, stage characters in a cocoon of grief don't generally sing about the cocoon, but that's the essence of Ms. Ripley's task. She's in 24 of the show's 38 musical numbers. It's hard to imagine that any Broadway performer has spent more time onstage singing and crying simultaneously."
Ripley tells the Times, "And now, I come out after the show, and one out of five people at the stage door is bipolar. I meet them every night, and I hear their stories."
The show, which is playing at the Booth Theater, has earned a total of 11 Tony nominations.
The article reports, "She attended DePauw University in Indiana and later graduated from Kent State in Ohio, then moved to San Diego, where she received her equity card. She came to New York in the early 1990s ... She was Tony-nominated once before, as half of a pair of conjoined twins in the 1997 musical Side Show. (She shared the nomination
with her "sister," Emily Skinner.) But she said this performance is one she'd never have been capable of before now.
"I'm living her all the time," says Ripley of Diana. "I've tried to turn the volume down when I come offstage, but I don't know."
Read the full story -- "An Evolving Portrait of Anguish" -- at the Times' Web site.
Alice Ripley also appeared in the original Broadway casts of King David, The Rocky Horror Show, James Joyce's The Dead, Sunset Boulevard, and The Who's Tommy. Her off-Broadway and regional credits include Tell Me On a Sunday (Kennedy Center, Helen Hayes Award nomination), Company (Kennedy Center, Helen Hayes Award nomination), and Shakespeare in Hollywood (Arena Stage, Helen Hayes Award nomination), among others. She was also the subject of an April 2009 piece in New York magazine.
Back