Commencement DVD is in the Mail
June 8, 2009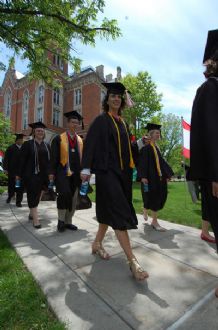 June 8, 2009, Greencastle, Ind. — The commemorative DVD of DePauw University's 170th commencement arrived on campus from the factory this afternoon and shipment of orders is under way. The dual-layer disc contains the complete ceremony from May 17 -- including video of each graduate receiving a diploma from President Brian W. Casey -- as well as more than two hours of bonus features.
Copies of the limited edition DVD are $19.95 for the first disc; additional discs sent to the same address are $8 each (7% sales tax will be added to Indiana orders). An online order form is available here (DVDs of the 2002-08 commencements are also available).
In addition to the four-camera production of more than two hour ceremony, the DVD includes a photo gallery featuring a total of more than 120 images from Friday's commencement rehearsal, Saturday's "DePauw Under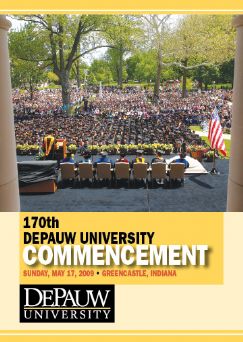 the Stars" event, and Sunday's graduation. Viewers can also enjoy selected campus highlights of the past four years, beginning with the Class of 2009's opening convocation in August 2005, clips of Ubben Lecturers such as Tony Blair and Mikhail Gorbachev, and ending with the awarding of the 2009 Walker Cup. Other features include "Monon Memories" of the last four football battles with Wabash College for the prized Monon Bell, the music video for The Ballad of the Monon Bell, and a vintage film from the DePauw Archives. (at right: cover of the commencement DVD)
As in past years, the DVD's menu will allow you to quickly access the spot in the program you want to see. If you're looking for a graduate whose last name is Roberts, for instance, you click on the letter 'R' in the menu, you're immediately taken to the first person whose last name begins with the letter 'R' receiving his or her diploma. Users can also jump to specific speeches, or watch the program from beginning to end.
The DVDs are professionally replicated, not duplicated, and are housed in a decorative jacket.
Ken Owen '82, executive director of media relations, directed the video shoot/webcast and mastered the DVD.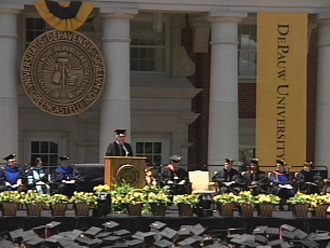 The jacket and disc artwork were designed by Dian Phillips, director of publications at DePauw, and the menus were created by Alex Turco, who will be a senior at the University in the fall.
The new disc marks the 19th DVD that DePauw has produced -- including the last eight Monon Bell Classics, which remain available here (supplies are extremely limited of the 2001, 2002 and 2007 DVDs).
For coverage of the University's 170th commencement, click here.
Back