Tim Ubben '58 & Tiffany Schiffner '02 Honored as 'Posse Stars'
May 20, 2009
May 20, 2009, Greencastle, Ind. — Timothy H. Ubben, a 1958 graduate of DePauw University, was honored tonight by the Posse Foundation as a "Posse Star" for his contributions to the organization. The event took place at Pier Sixty in New York City. 60 Minutes correspondent Lesley Stahl emceed the gala, which also featured a performance by John Legend and remarks from the New York Times' Bob Herbert.
As previously reported, Tiffany A. Schiffner (pictured below right), a 2002 graduate of DePauw University, was also honored as a Posse Star at the event.
The same honor was bestowed upon DePauw's 18th president, Robert G. Bottoms, in 2004.
The Posse Foundation identifies public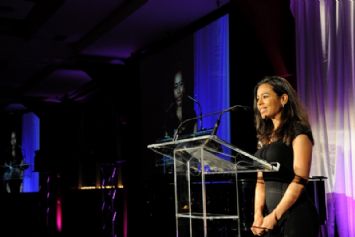 high school students with extraordinary academic and leadership potential, who may be overlooked by the traditional college selection process. The Foundation extends to these students the opportunity to pursue personal achievement and academic excellence by placing them in supportive, multi-cultural teams ("posses") of 10 students.
The Star Award is given to an individual who exhibits leadership, makes a significant contribution in the field of education and positively affects people's lives.
"Tim Ubben has been one of Posse's biggest fans for over 10 years," says Posse founder Deborah Bial. "He is a member of both the national board of directors and the Chicago advisory board and is Posse's lead endowment sponsor, having given more than $12 million to ensure Posse's longevity."
Bial adds, "Most important, it is because of Tim that Posse exists in Chicago. In 1999, he and his wife, Sharon, were the lead supporters of the opening of Posse's third program site. The Ubbens recruited six other couples to join them in donating the capital to launch Posse Chicago." (photo, l-r, Sharon Ubben, Debbie Bial and Tim Ubben)
The Posse Foundation's partner universities acknowledge Posse Scholars by awarding them four-year, full-tuition, leadership scholarships. DePauw hosts two Posses each year -- one from New York City and the other from Chicago -- and has been a Posse partner since 1996.
Visit Posse's Web site. and learn more about Tim and Sharon Ubben's good deeds on behalf of the foundation in this story.
A 1986 gift to DePauw by Tim and Sharon Williams Ubben created the University's Ubben Lecture Series, which has welcomed an array of world leaders and acclaimed thinkers, including Tony Blair, Margaret Thatcher, Gen. Wesley Clark, Hotel Rwanda's Paul Rusesabagina, Mikhail Gorbachev, Elie Wiesel and Benazir Bhutto. 2009 guests included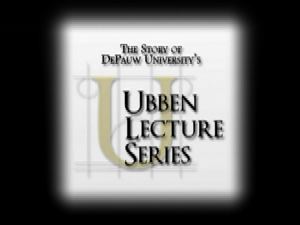 journalist Jane Pauley, musician and innovator Todd Rundgren, and David Plouffe, manager of Barack Obama's presidential campaign.
A video retrospective of the Ubben Lecture Series -- produced by DePauw students -- was premiered in June 2008 over Alumni Reunion Weekend and will be featured in a Friday program as part of this year's celebration. Read about the project, and view the piece, via this article.
In May 2008, Posse founder Debbie Bial joined Dr. Bottoms in providing the principal address at DePauw's commencement and was presented with the McNaughton Medal for Public Service.
Back