President Casey Announces Several Key Appointments
June 9, 2009
June 9, 2009, Greencastle, Ind. — David T. Harvey will serve as DePauw's vice president for academic affairs for the 2009-10 academic year, one of several important changes in the oversight of the University's academic program announced by President Brian W. Casey. The president has also appointed a permanent chief information officer and given oversight responsibilities for the DePauw Nature Park to one person.
In a message to the DePauw community, Dr. Casey stated, "These changes are designed, first, to allow us to manage the University's academic enterprise wisely as we conduct a search for DePauw's permanent chief academic officer. They are also designed to allow for the creation of a new, robust administrative structure within Academic Affairs that can support those University's priorities emerging through the ongoing intellectual life discussions. I am excited by the possibilities these administrative changes present and the ways in which a revised administrative structure will better connect and enrich those offices, functions and programs that support student and faculty intellectual life."
Dr. Harvey, Percy L. Julian Professor of Chemistry and Biochemistry, will serve a one-year term as vice president for academic affairs, beginning July 1, 2009. In that role, he will will work with the Committee on Faculty, and will oversee academic department operating budgets, interdisciplinary programs, the University libraries, all University-wide arts programs (including of the University's museums and galleries), the registrar, and departmental and program reviews. Together with Brad Kelsheimer, vice president for finance and administration, Harvey will lead a University-wide budgetary process designed to ensure that resources are applied in the service of our highest priorities. As a member of the president's cabinet, David will work with the appropriate committees of the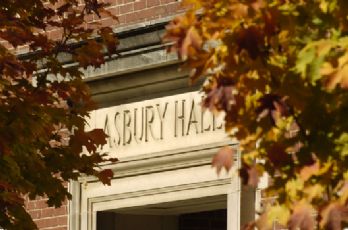 Board of Trustees and will also join the new Academic Council (described below).
In the fall, the University will begin a national search for a long-term chief academic officer for DePauw.
Two other faculty members have agreed to serve in the academic administration as part of a reconfigured Academic Affairs structure:
Kerry Pannell, Q.G. Noblitt Professor of Economics and Management, will serve as dean of the faculty for a two-year term beginning July 1, 2009, reporting to the vice president for academic affairs. In this new role, Dr. Pannell will direct those offices and functions currently in the Office of Academic Affairs that are designed to support the work and the development of DePauw's faculty, [[including faculty development programs, grants administration, departmental endowed professorships and University-wide professorships, and administrative oversight of the Janet Prindle Institute for Ethics (working with the Institute Director and the JPIE Faculty Advisory Committee). ]]
Pedar Foss, Edwin L. Minar Professor of Classical Studies, will serve as dean for academic life for a two-year term beginning July 1 2009, also reporting to the vice president for academic affairs. The newly-configured position of dean for academic life will coordinate and direct all those offices and programs that support the full academic experience of our students -- including advising, career services, the Center for International and Experiential Education (Winter Term and off-campus study), the first-year seminar program, and those offices that assist students in obtaining external post-graduate scholarship and fellowships.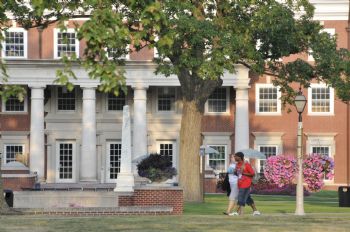 President Casey notes, "I believe DePauw will be well served in having a single member of the faculty oversee these offices and functions, finding ways to deepen and enrich the totality of our student's experiences during their short four years in our academic community."
Harvey, Pannell and Foss will join the president in a newly-formed, interim Academic Council, a committee designed to address issues arising in connection with the administrative changes noted above and following from the continuing, community-wide discussions about DePauw's intellectual life. The Academic Council will also include: Caroline Jetton, dean of the DePauw UniversitySchool of Music; Dave Berque, professor of computer science and chair of the faculty; Cindy Babington, vice president for student life; and Rick Provine, chair of the Committee on Administration. President Casey has asked Raymonda Burgman, associate professor of economics and management and special advisor to the president for strategic initiatives, to join in the work of the Academic Council, "to ensure that institutional diversity remains a constant priority in all our planning."
Casey states, "This eight-person Academic Council will be charged with advising the new vice president for academic affairs on how we may best serve DePauw's academic enterprise and the development of our students while supporting the work of the faculty. The Academic Council will remain deeply attuned to the current faculty governance structures and to the intellectual life discussions, determining how best to respond to proposals that may emerge in these discussions, especially those that may pertain to the first year experience, winter term, competency centers, programs of distinction, and interdisciplinary programs."
President Casey has also appointed Carol Smith, a 1985 DePauw graduate who has been serving as interim chief information officer, to the permanent CIO post. He is also calling upon Smith, Harvey, Berque and Kelsheimer to review DePauw's current information service structure and offer recommendations regarding the general oversight of information services at DePauw.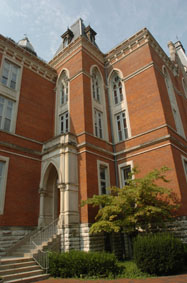 "Information service offices serve many masters -- academic and administrative -- and must also be connected to library functions," according to Casey. "Creating a structure that fulfills both the administrative and financial requirements of the institution as well as the academic needs of students and faculty is a challenge at every college and university. I look forward to considering the recommendations of this working group."
Finally, President Casey has asked Cindy Babington, vice president for student life, to administer the DePauw University Nature Park and its staff members and programs.
"Having a single administrator oversee the facility and staff is necessary for the sake of clarity," the president says. "I have asked Cindy Babington to work very closely with the Nature Park Advisory Committee, and broadly with faculty, staff, and community leaders, to see what challenges and opportunities we may have with the Nature Park and to ensure that, in this new structure, all park constituencies are well served. "
Back