Alumni Answer Call to Serve
June 11, 2009
DePauw alumni once again joined together for service work during the University's second annual National Month of Service in May. In 2008, 10 groups of alumni made a difference across the nation by engaging in service projects. In Chicago, alumni volunteered at the Chicago River Clean-Up in Clark Park; 10,453 pounds of food were sorted by Boston-area alumni at the Greater Boston Food Bank; and the Mini Marathon in Indianapolis featured DePauw alumni as part of the Gatorade curb crew. Building on the success of last year's inaugural Month of Service, alumni volunteered this year in 13 service projects across the country.

Jennifer Clarkson Soster '88, executive director of alumni relations, believes that the annual event is a natural extension of the student experience at DePauw.

"As an alumna, I know that DePauw has a wonderful tradition of service as evidenced by the 70 percent of students already involved in community service," Soster says. "Students at DePauw value the importance of serving others and making a difference in the communities they join."

In Chicago, Barbara Martin Tubekis '80, a member of the Alumni Board of Directors and co-chair of the National Month of Service advisory committee, organized a service project with Alternatives, Inc. "Alternatives is a wonderful safe haven that supports families and students at risk in underserved areas of the city, through after school programs, tutoring and the arts," she says. "One of their staff told us that an Alternatives participant went on to become a Posse student at DePauw."

Twenty-one alumni, representing classes from 1980 to 2009, gathered at Alternatives, Inc. to help clean up the outdoor garden and art gallery and do some heavy lifting projects. Impromptu break dancing demonstrations by some of the organization's young members kept the volunteers entertained throughout their work.

Service projects on both coasts proved that distance doesn't equal disengagement for DePauw alumni.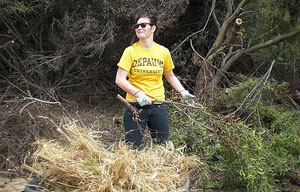 Abigail A. Parsons '04, regional alumni leader in Los Angeles, traveled with a group of alumni to the Ballona Wetlands in Marina Del Rey, where they removed invasive plant species inhibiting the growth of vegetation native to the area.

"DePauw encouraged students to appreciate one's environment," Parsons says. "Our project allowed alumni to appreciate a portion of Los Angeles that is very distinctly not taken over by the city."

On the other side of the country, Dr. John A. Drees '65 organized a group of Philadelphia alumni for 30 hours of service at the St. Elizabeth's Community Center run by Project H.O.M.E., an organization dedicated to ending homelessness in the city.


"I have received responses from several area alumni describing their volunteer activity, and clearly it is important to a lot of people," Drees says. "Hopefully, DePauw has had some effect in instilling the desire to be involved with service to the larger community."

The National Month of Service was established by DePauw's Alumni Board of Directors in June 2007. May was chosen because it allows alumni-organized service projects to coincide with another May tradition — the Putnam County Relay for Life, hosted annually on DePauw's campus.

"In addition to making valuable service contributions collectively in May," Tubekis explains, "another purpose of this effort is to make a statement about the importance of affecting change in our world — something DePauw has always valued. The students at DePauw are hugely involved in service, so our month of service as alumni supports their work as well."

Please visit the National Month of Service Web site for information about the event and how to start planning your own affiliated service project.
Back