Prof. Jeff McCall '76 Visits NPR Affiliate's Noon Edition
June 12, 2009
June 12, 2009, Greencastle, Ind. — "Television has tried to redefine" the traditional standards of what constitutes news in recent years, and that troubles Jeff McCall, professor of communication at DePauw University. On WFIU's Noon Edition today, McCall defined traditional news as information that is "high impact," and said that editors must consider "how many people are affected, timeliness, proximity, conflict, prominence of the people involved in news, and there's also that human interest component as well."
Anymore, he notes, "We end up a lot of times covering a lot of news that don't necessarily have a lot of high impact -- particularly cop shop type news, traffic accidents, convenience store hold-ups and that sort of thing. And I also think there's an over-emphasis perhaps on the prominence of the people involved from time-to-time, particularly in the celebrity world."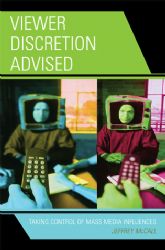 The professor -- who authored the book Viewer Discretion Advised: Taking Control of Mass Media Influences -- continued, "The news media helps determine for the public what the public should think is important, and I don't think know nec that the public's agenda is the same as the news media's in this day and age, but that's what they're left to have to absorb."
The hour-long program on the Bloomington, Indiana National Public Radio affiliate focused on how people perceive and process the news media. Dr. McCall was joined on the program by Erik Bucy, associate professor of telecommunications at Indiana University and Edward Hirt, a professor of psychology at IU.
You can hear the complete program online at the NPR station's Web site.
A 1976 graduate of DePauw, Jeffrey M. McCall is a widely quoted expert on media matters and has been cited in articles published by approximately 100 newspapers. He authored an op-ed for the June 4 Atlanta Journal-Constitution that examined the use of children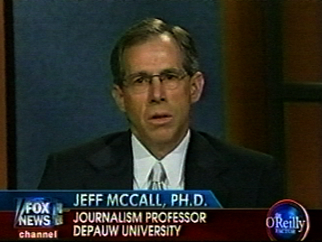 in reality TV shows, such as Jon & Kate Plus 8. The night before, he offered his analysis of media coverage on FOX's O'Reilly Factor, which was seen in more than 4 million U.S. households. The professor also recently offered analysis to Advertising Age on the ratings success of CBS.
Professor McCall previously appeared on Noon Edition in 2004. Other DePauw guests on the program have included: Robert Calvert, professor emeritus of political science; Kerry Pannell, associate professor of economics and management; Jeff McCall, professor of communication; Brett O'Bannon, associate professor of political science; Ken Owen '82, executive director of media relations; and Eric K. Silverman, former associate professor of sociology and anthropology.
Back