DePauw's Strong Graduation Rate Noted in Indianapolis Star
June 16, 2009
Also: DePauw Among USA's Top Schools for Graduating Students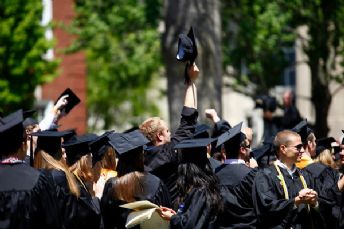 June 16, 2009, Greencastle, Ind. — DePauw University and the University of Notre Dame are cited as "Indiana schools in the top 10 among similar institutions" in a sidebar to an Indianapolis Star article this morning. The newspaper examines a troubling report on the average six-year college graduation; a report which finds that DePauw's graduation rate of 81% is the fifth-highest in the nation among "very competitive" schools (Stonehill tops the list at 85%) and is #2 in the Midwest.

"Roughly half of Indiana students won't obtain a bachelor's degree within six years of starting college, according to a new report from the American Enterprise Institute, a Washington-based think tank," begins the story by Amanda Hamon. "The report, which looked at the graduation rates of more than 1,300 American colleges and universities, found that only 53 percent of Indiana college students finish within six years."
The Star report adds, "In a state that's ranked 43rd in the nation in its percentage of adults holding a bachelor's degree or higher, those numbers are cause for concern. Experts say an educated work force is essential to future economic vitality and is needed to help the U.S. compete against rising global economic powerhouses such as China and India. And, according to the Indiana Commission for Higher Education, bachelor's degrees help Hoosier graduates earn $1 million more in their lifetimes than those with only a high school diploma."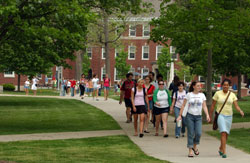 The complete text can be found at IndyStar.com.
Learn more about the AEI's findings in this story, or access a PDF of the complete report.
Earlier this year, data from Independent Colleges of Indiana found that DePauw's 81.2% four-year graduation rate exceeded both the 60% average at Indiana's independent colleges and the 29% graduation rate for undergraduates at state schools. Learn more in this previous story.
Back