Canadian News Service Spotlights Prof's Research on Smiling and Divorce
June 17, 2009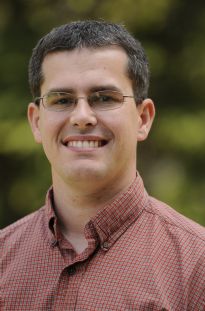 June 17, 2009, Greencastle, Ind. — A DePauw University professor's research on smiling and divorce -- which has received worldwide media attention since mid-April, including an appearance on NBC's Today -- is now the subject of a story by Canada's Canwest News Service. It notes how a team led by Matt Hertenstein, associate professor of psychology, "'painstakingly coded' people's smiles by examining the contractions of the zygomatic major muscle, which pulls up the corners of the mouth, and the orbicularis oculi muscle, which gives you 'that twinkle in the eye,' Hertenstein says ... When they matched those smile scores with people's marital histories, the results were striking. On average, the Mona Lisa types were five times more likely to have been divorced than the 10 per cent with the toothiest grins, he says."
"The fact that you can determine a major life outcome such as divorce from a snapshot decades earlier in a person's life is pretty surprising to me," Dr. Hertenstein says.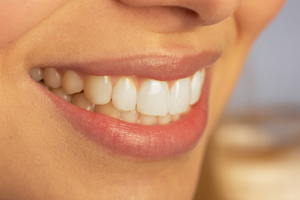 Shannon Proudfoot writes that the professor "cautions that the researchers also found plenty of smiley people who had been divorced and plenty of stone-faced people in long-standing relationships, so their findings only point to relative likelihood ... As for why decades-old pictures reveal people's later likelihood of achieving household harmony, Hertenstein says he thinks the most likely explanation is that people who smile more have a 'rosier' disposition that buffers relationship ups and downs. It's also possible that they attract others with similarly sunny personalities, he says. Or maybe it's not about the smile at all."
Read the full story at the Web site of the Winnipeg Free Press.
The study was published in the journal Motivation and Emotion and was conducted by Hertenstein, Carrie A. Hansel, formerly research coordinator at DePauw's Emotion Lab and 1993 graduate of the University, and 2008 DePauw graduates Alissa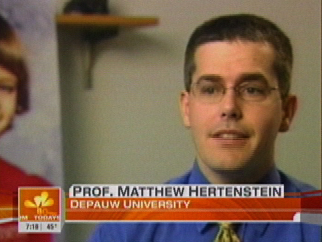 M. Butts and Sarah N. Hile, who were students of the professor. Over the past few weeks, the DePauw research has been the subject of a number of media reports worldwide, including the London Daily Mail, CNN, the UK's Economist and the New Straits Times of Kuala Lumpur, Malaysia.
Research conducted by Matt Hertenstein and his students at DePauw has previously been featured in American Baby and Prevention magazines, on the Canadian Broadcasting Corporation's program, The Nature of Things, in Sunrise magazine and the Toronto Sun, and on National Public Radio.
Visit Professor Hertenstein's Emotion Lab online by clicking here.
Source: Canwest News Service
Back