College in a "Flattening" World
June 18, 2009
As recently as 50 years ago, "Made in America" stickers might have seemed redundant. Today, Americans are just as likely to own a product manufactured overseas as one from their home state, and services such as overnight shipping and Internet advertising allow businesses to compete in markets around the globe. Economic globalization is often spoken of in terms of jobs - or whether they're coming or going - but as the world's economies have opened, intercultural communication has progressively become part of everyday life.
"Our graduates are increasingly affected by globalization," says Kerry E. Pannell, chair of DePauw's Department of Economics and Management. "Almost all companies, large and small, now have some sort of global market aspect to them. Students will need to be able to negotiate a deal with a Chinese business for a client in France, for example. To do that well requires an understanding about why the people in those countries are producing and buying those goods."
Pannell says that new trade-related issues have emerged as well. "Globalization also becomes an ethical question because many countries don't have the protections for workers that the United States has. The global marketplace forces us to confront those ethical issues head-on. Our students are going to be in the thick of things in government and nonprofit organizations, providing services or solving problems associated with globalization."
In 2006 the University committed to internationalizing the DePauw experience in order to better prepare graduates for the realities of an interdependent global society. By building on the strength of established programs such as Winter Term and study abroad opportunities - DePauw ranked sixth among baccalaureate institutions nationally for the number of students studying abroad in 2006-07 - the University pledged to further diversify its community and curriculum. In October 2006, former U.S. Secretary of Education Margaret Spellings (right) praised DePauw's plans for continued improvement, saying, "Here at DePauw you already recognize the importance of providing students with a global perspective. Your efforts to increase international student enrollment here, to encourage study abroad programs and to emphasize language proficiency, which is so critical to the flattening world, will help your graduates be better prepared to participate and lead in the new global economy."
Three years later, the internationalization initiative has already produced noticeable results. Every year since its enactment, DePauw has been listed among the Top Producers of Fulbright Awards for U.S. Students by The Chronicle for Higher Education.
"Our students don't leave as technicians to solve specific, small-scale problems," Pannell says. "They are definitely getting a good sense of the big picture, and we really feel as if they are the ones who will be making the decisions that have impact on a broader scale. We're training them to be problem solvers for these big, global issues that we as a society face."
Of all the areas in which the University had set out to improve, perhaps the most visible change has been in the increase of international students on campus. In 2008 international applications jumped by 243 percent compared to the previous year, and the number of international students enrolled at DePauw reached a record 127, roughly 5 percent of the total student body.
Rebecca S. Konowicz, coordinator of international admission , says that the same qualities that attract students from across the country - small class size, personal attention from faculty members and strong ranking in various publications - also attract international students to Greencastle.
"Many of our recruitment activities for international students are similar to what we do domestically," Konowicz says. "We travel to various high schools and college fairs, build relationships with school counselors, current student families, alumni and various organizations that work with students in preparation for the U.S. college admission process."
While the increase in international enrollment has meant that some student services and programs have been strengthened, few major changes were necessary, says Kathleen S. Knaul, director of the Center for International and Experiential Education and assistant dean of academic affairs.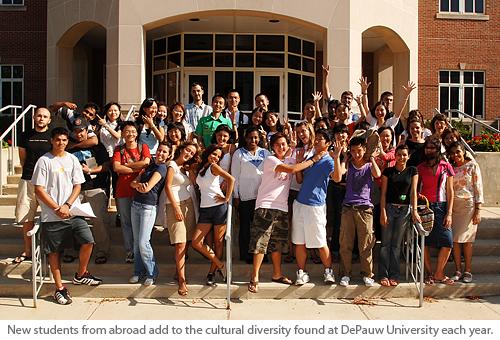 "There are certain needs international students have that domestic students don't, such as how to work legally in the U.S. during their time here and transportation," Knaul says, "but most of what they need, domestic students need, too. Our focus is less on offering new programs and services than on working with people across campus to be more aware of and inclusive of international students."
Knaul argues that DePauw's growing diversity has benefited the entire community, citing students such as Ganga Devaiah '11, whose documentary film work has contributed to the discussion of environmental and sustainability issues on campus, and the Cultural Connections program, an educational outreach service run by international and domestic students that promotes multicultural understanding and global thinking in local schools.
"Having a more diverse student body, and particularly a more internationally diverse student body, means that all of us - domestic and international students, staff members and faculty members - have a chance to live in a community that more closely resembles the communities our students enter into upon graduation," Knaul says. "In living, studying and working alongside a diverse group of people, we are challenged in our own assumptions and our own knowledge. Our education is, in a way, an education without borders."
Back