Prof. Bob Steele '69 Offers Analysis of Decision to Keep Journalist's Kidnapping Out of the News
June 22, 2009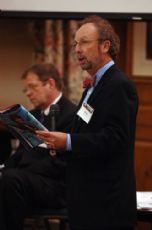 June 22, 2009, Greencastle, Ind. — "Bob Steele, the well-known ethics instructor ... says the decision by a news outlet to withhold any information is tricky, and when it involves one of their own, and an effort at safety, even more sticky," begins an Editor & Publisher story on New York Times reporter David Rohde's escape from Taliban kidnappers in Pakistan. Rohde, a Pulitzer Prize winner, had been held captive since November but the news was never reported at the urging of family members who feared that his safety would be at greater risk if his kidnapping became widely known.
Steele, Eugene S. Pulliam Distinguished Visiting Professor of Journalism at DePauw University, tells E&P's Joe Strupp, "News organizations are balancing competing obligations if a journalist is kidnapped or detained. The primary obligation to the public is to report accurately and timely on meaningful events. If you have a journalist who is detained or kidnapped, that will generally reach the level of newsworthiness." But, he adds, "News organizations also have an equal obligation to minimize harm. That means showing care and caution to not further endanger someone whose life may be in jeopardy. These are competing obligations and loyalties. There is also a matter of
fairness and consistency. Would a news organization apply different standards in the case of a government diplomat or a business executive or a tourist than they would one of their own?"

That said, Dr. Steele offers, "You should not be bound by a rigid rule. Rather you make the best journalistic decision in each case. In almost all cases, the value of a human life outweighs the value of revealing facts in a kidnapping that you would usually report."
Access the story by clicking here.
A 1969 graduate of DePauw, Bob Steele has been described as a "journalism treasure" by American Press Institute's Steve Buttry. Professor Steele also serves as Nelson Poynter Scholar for Journalism Values at the Poynter Institute. He was also quoted in an Associated Press article this weekend.
Source: Editor & Publisher
Back