Prof. Matthew Oware Writes of 'Contradictory Messages in the Songs of Female Rappers'
May 11, 2009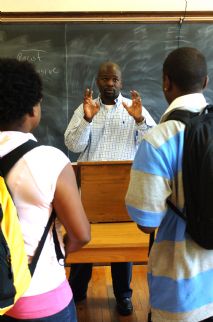 May 11, 2009, Greencastle, Ind. — An article by Matthew Oware, associate professor of sociology and anthropology at DePauw University, is published in the May 2009 issue of the Journal of Black Studies. Dr. Oware's contribution is titled, "A 'Man's Woman'?: Contradictory Messages in the Songs of Female Rappers, 1992-2000."
An abstract states that Oware's work provides "content analysis of 44 songs taken from the Billboard charts between 1992 and 2000," and finds "that all female rap artists in the sample included the cornerstones of rap in their songs: braggadocio, consumption of alcohol and drugs, and 'dissin' of female and male rap competitors. More important, the majority of the artists had themes of female agency and empowerment present in their music. However, the artists also had songs that were antithetical to Patricia Hill Collins' black feminism. Indeed, a majority of the songs examined had women who self-objectified, self-exploited, and used derogatory lyrics when referring to other women. The author finds that these contradictory messages, sometimes by the same artists, nullify the empowering messages that are conveyed and only reproduce and uphold male hegemonic notions of
femininity."
Learn more at the Journal's Web site.
Matthew Oware and Barbara Steinson, professor of history, were the recipients of the Exemplary Teaching Award for 2008-09. Given jointly by DePauw University and the General Board of Higher Education of the United Methodist Church, the award recognizes faculty members who exemplify excellence in teaching, civility and concern for students and colleagues, commitment to value-centered education, and service to students, the institution and the community. Details can be found in this article.
Back