Prof. Jeff McCall '76 Weighs In on Coverage of SC Governor's Woes
June 25, 2009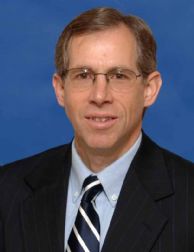 June 25, 2009, Greencastle, Ind. — "Jeff McCall, an author and professor of mass communication at DePauw University in Indiana, tells Newsmax that Olbermann may have strayed too far from how Sanford's admitted infidelity affected his official responsibilities as governor of South Carolina," notes a story tonight. The report begins, "MSNBC host Keith Olbermann's biting mockery of South Carolina Gov. Mark Sanford is beginning to draw strong rebukes, even from his normally staunch allies in the left-leaning blogosphere."
"I believe Olbermann's critics sensed that the coverage was too focused on Sanford's personal failings, trying to use the situation to generate humor and sensationalism at Sanford's expense," Dr. McCall says. "It seems to me that the critics of Olbermann's treatment of Sanford have sensed the irony of left-leaning commentator taking delight in reporting a Republican politician's personal problems, when the response by many on the left to the troubles of [former President] Clinton and [Democratic presidential contender John] Edwards, for example, was to play the story down as 'just sex,' or that a personal problem of a government official should remain a personal matter."
Governor Sanford, who had been said to be on a hiking trip
to the Appalachian Trail, admitted yesterday that he was in Argentina with a woman he has been having an extramarital affair with.
Read more by clicking here.
A 1976 graduate of DePauw, Jeffrey M. McCall is the author of the book Viewer Discretion Advised: Taking Control of Mass Media Influences. A widely quoted expert on media matters, the professor of communication has been cited in articles published by approximately 100 newspapers. He authored an op-ed for the June 4 Atlanta Journal-Constitution that examined the use of children in reality TV shows, such as Jon & Kate Plus 8. The night before, he offered his analysis of media coverage on FOX's O'Reilly Factor, which was seen in more than 4 million U.S. households.
On June 12, McCall was a guest on Bloomington, Indiana National Public Radio affiliate WFIU's Noon Edition. Details can be found in this recent story.
Back