Incoming Student Named All-Area HS Baseball Player of the Year
June 29, 2009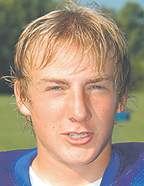 June 29, 2009, Greencastle, Ind. — Derek Mounsey, who recently graduated from Centerville Senior High School and will attend DePauw University in the fall, is the 2009 Richmond Palladium-Item All-Area Player of the Year for baseball, reports the Indiana newspaper. "Mounsey was 4-1 with 46 strikeouts and a 1.91 ERA during his senior year. He batted .463 with 38 hits, 33 RBIs and 29 runs," writes Myyon Barnes.
"He was the difference maker on the mound," says Centerville coach Mike Baumer. "Plus he hits pretty well, too."
The article notes the Mounsey also earned honors as Region H and Tri-Eastern Conference Player of the Year. He was also selected to play in the 2009 Indiana East-West All-Star Baseball Classic. "Mounsey plans to major in sports medicine and continue his baseball career at DePauw University.
"I think he can pitch for them. If not he can hit and play in the outfield," Baumer tells the paper. "He will fit in nicely for them."

Access the complete story at the Palladium-Item's Web site.
To learn more about DePauw's baseball program, visit the team's online page.
Back