Former VP Dan Quayle '69 Among Celebrities Playing in American Century Championship
July 1, 2009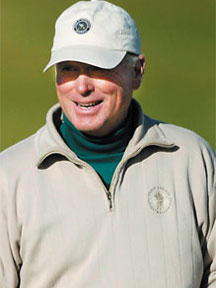 July 1, 2009, Greencastle, Ind. — Dan Quayle, the 44th Vice President of the United States and 1969 graduate of DePauw University, will be among the celebrity golfers participating in the 20th anniversary American Century Championship, July 14-19, in Lake Tahoe, Nevada. Others in the field of 90 players include Charles Barkley, John Elway, Wayne Gretzky, Michael Jordan, Ray Romano and Tony Romo.
For the fourth consecutive year, the Lance Armstrong Foundation (LAF) is the official charity of the American Century Championship. Since its inception in 1990, Tahoe's celebrity golf tournament has raised more than $3 million for a variety of charities.
NBC Sports will televise the second and final rounds of the tournament live (Saturday and Sunday, July 18-19). ESPN2 will carry Friday's opening round.
Learn more at the tournament's Web site.
Dan Quayle is currently is chairman of the international division of Cerberus Capital Management and president of Quayle and Associates. As vice president under George H.W. Bush (1989-1993), Quayle made official visits to 47 countries, was chairman of the President's Council on Competitiveness and the National Space Council, and served as President Bush's point man on Capitol Hill. Since leaving office in 1993, Quayle has authored three books, including the bestseller Standing Firm.
In a January story, Quayle offered his thoughts on the inauguration of President Barack Obama.
Back