Daniel Hendricks '70 Appointed Vice Chancellor for Advancement at Purdue Calumet
July 1, 2009
July 1, 2009, Greencastle, Ind. — Daniel L. Hendricks, a 1970 graduate of DePauw University, has been appointed vice chancellor for advancement at Purdue University Calumet. Upon ratification by the Purdue University Board of Trustees, Hendricks will assume his new position on August 3. He was previously vice president for advancement and public services at Western Illinois University and executive officer of the WIU Foundation.
"Dan brings an outstanding track record of fundraising performance," says Howard Cohen, chancellor of Purdue Calumet. "He offers great rapport and fresh, creative ideas about how to build support. I am excited that he has agreed to join our Purdue Calumet team."
Inside Indiana Business notes, "Hendricks' accomplishments during the past four years at Western Illinois included increasing gift and pledge funding by 70 percent in three years, developing a vertical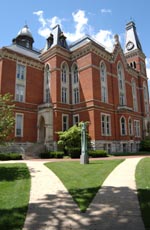 marketing principles initiative to effectively cultivate prospective major donors and redesigning an entertainment program that tripled major donor and alumni participation."
"I look forward to building on the strengths and commitment of alumni and friends, while involving the extended family of Purdue Calumet in our advancement efforts," says Hendricks. "I am impressed with all that Purdue Calumet has to offer," he said. "This position affords me a chance to come back home to Indiana and apply my background in exhilarating ways."
After graduating from DePauw, where he majored in English (literature), Hendricks earned master's and doctorate degrees from Duke. He also received a fellowship from the University of Geneva (Switzerland).
Further information can be found at Inside Indiana Business.com.
Learn more about Dr. Hendricks in this previous story.
Back