Prof. Robert Dewey Elected a Fellow of Britain's Royal Historical Society
July 3, 2009
July 3, 2009, Greencastle, Ind. — Robert F. Dewey Jr., assistant professor of history at DePauw University, has been elected a Fellow of the Royal Historical Society (RHS). Dr. Dewey is being honored for his recently published book, British National Identity and Opposition to Membership of Europe, 1961-63: The Anti-Marketeers.
Founded in 1868, the Society received its Royal Charter from Queen Victoria after a campaign by Henry Austin Bruce, Lord Aberdare. According to its Web site, the RHS "remains the foremost society in Great Britain promoting and defending the scholarly study of the past." Election to fellowship status is conferred on those who have made "an original contribution to historical scholarship in the form of significant published work."
Candidates for fellowship must be proposed by a current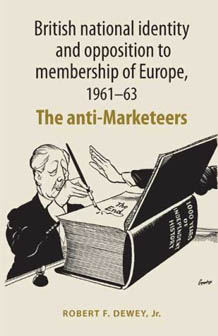 Fellow who provides a refereed assessment of the scholar's work. The application must subsequently be approved by a 2/3 vote of the RHS Council.
A specialist in modern British history, Professor Dewey completed his D.Phil. at Oxford University and joined the DePauw faculty in 2004. He is currently conducting research on British imperial culture and the export of rugby, "Rugby Football in Fiji: The Colonial Era, 1874-1970." A devoted follower of international rugby, Dr. Dewey's interest in the topic derives partly from his experiences as a member of the Pacific Islanders Rugby Football Club in London, between 1997 and 2001. In the course of research he has visited the Australian, New Zealand, Tonga, Samoa and Fiji Rugby Unions and published a chapter entitled "Pacific Islands Rugby: navigating the global professional era" which appeared in the 2008 book, The Changing Face of Rugby. (photo: Dewey at the Samoa Rugby Union with CEO Sua Schuster and Taufusi Salesa)
In addition to paper presentations at conferences throughout the region,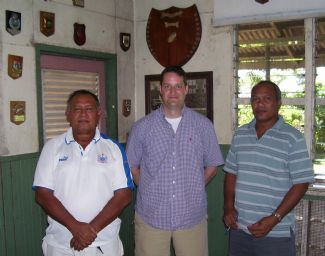 Dewey has also spoken at the Australian Rugby Union in Sydney, the University of Canterbury in Christchurch, New Zealand, and the Institute of Historical Research at the University of London. During the 2007-08 academic year, he and his wife, Susan Dewey, part-time assistant professor of University studies, were visiting scholars at the University of the South Pacific in Suva, Fiji, where they pursued a research project supported by a grant from the National Science Foundation.
Visit the Royal Historical Society online.
Learn more about the professor in this recent story.
Back