FOX's Bret Baier '92 Discusses "Job of a Lifetime" and DePauw in Atlanta Paper
July 6, 2009
July 6, 2009, Greencastle, Ind. — "When he attended DePauw University in Indiana, he became the first anchor at the new media center," notes an Atlanta Journal-Constitution profile of Bret Baier, the anchor of FOX News Channel's Special Report with Bret Baier. "It's painful watching those tapes," Baier, a 1992 DePauw graduate, jokes as he recalls his collegiate TV appearances.
Baier "brings a humble, old-school presence to the network," writes Rodney Ho, and audiences have "found the news anchor likable and watchable. He is drawing an average of 2 million viewers a night this year, up nearly 40 percent from the first six months of 2008, when Brit Hume was at the helm" of the nightly news program Baier anchors.
The feature story tracks Baier's career, from his first job after graduating from DePauw in Beaufort, South Carolina -- where he worked at an Applebee's on the side to make ends meet -- to his current post at FOX. He's been at the network since 1997, and has covered everything from the 9/11 attack on the Pentagon to a one-on-one interview with then-President George W. Bush.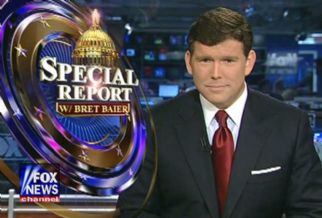 "It's a job of a lifetime for a guy like me who loves politics and being in the middle of things," he says. "I'd be happy to retire at this job."
Read the full article at the newspaper's Web site.
In April, the News & Observer of Raleigh-Durham, North Carolina featured Bret Baier.
In March 2008, Baier returned to his alma mater to discuss his career and to praise the virtues of a DePauw degree. A story with audio clips can be accessed here.
Back