Reality TV Teens May Ask "What Was I Doing?," Prof. Jeff McCall '76 Tells NY Daily News
July 8, 2009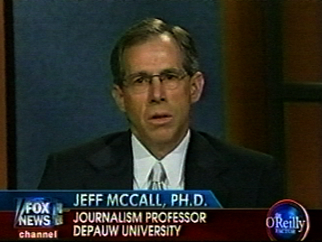 July 8, 2009, Greencastle, Ind. — A new reality show on cable television's Bravo network features teenagers follows the life of six New York City teenagers. But in today's New York Daily News, Rosemary Black writes, "Down the road, their NYC Prep appearances may disrupt the teens' ability to lead a normal life, says Jeff McCall, media studies professor at DePauw University and author of Viewer Discretion Advised: Taking Control of Mass Media Influences.
Dr. McCall tells the newspaper, "The show might be funny and edgy now, but in a few years when these kids want to get a job with AmeriCorps, they've got a history on video of airhead moments and people talking about their hookups. It's a lot harder to distance yourself from this than if you are an anonymous high school student."
The piece adds, "McCall says he wishes the show could have been done as a documentary rather than a series because he feels it would not have been detrimental to the students who star on it. Says McCall: 'Fifteen years from now, these kids may look back and say, what was I doing?'"
Access the complete article at the Daily News' Web site.
A 1976 graduate of DePauw, Jeffrey M. McCall has been cited in articles published by approximately 100 newspapers. He authored an op-ed for the June 4 Atlanta Journal-Constitution that examined the use of children in reality TV shows, such as Jon & Kate Plus 8. The night before, he offered his analysis of media coverage on FOX's O'Reilly Factor, which was seen in more than 4 million U.S. households. He also offered his thoughts on media coverage of South Carolina Governor Mark Sanford's problems.
On June 12, McCall was a guest on Bloomington, Indiana National Public Radio affiliate WFIU's Noon Edition. Details can be found in this recent story.
Source: New York Daily News
Back