Junior's Carnegie Hall Performance "Was Overwhelming and Surreal"
July 10, 2009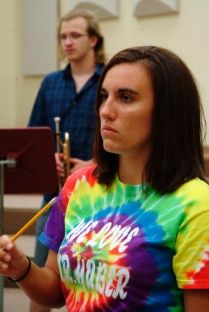 July 10, 2009, Greencastle, Ind. — "Percussionist Bridget Parker in May found herself under the gilded arch of a New York City theater where numerous musical legends have played for more than 100 years," begins a story in the Times of Northwest Indiana. Parker, who will be a junior at DePauw University in the fall, performed at Carnegie Hall on May 24 as a member of the 65-member National Collegiate Wind Ensemble after successfully auditioning to be part of the group. (at left: Parker working with the Munster High School marching band this week; photo by Tony V. Martin)
She tells the newspaper, "The entire time I was thinking 'Oh, my gosh, I'm playing at Carnegie Hall, and there is a full house watching me.' It was kind of scary, but I zoned it out because I was trying to play."
Louisa Murzyn writes, "Parker felt the mystique of performing in the same venue as such musical greats as Yo-Yo Ma, Luciano Pavarotti, Benny Goodman, Judy Garland, The Beatles and Thelonius Monk." The audience responded to the National Collegiate Wind Ensemble's performance with a standing ovation.
"
It was overwhelming and surreal," Parker, a music education major, recalls. "It knocked me off my feet. That's when I got teary because I'd checked off one of things I wanted to do before I die." She adds, "I'm only 20, and you don't always get that chance."
The newspaper adds, "This summer, Parker is playing in the Michigan City Municipal Band and helping with Munster's marching band drum line. She is set to graduate in 2011 and would like to teach music education at the middle school level."
Read the complete text -- "Munster High grad, ensemble earn standing ovation at Carnegie Hall" -- at the Times' Web site.
Learn more about Bridget Parker in this recent feature.
Back