TV Station Highlights Tigers' Triumph as Rivalry Hits Century Mark
November 10, 1990
November 10, 1990, Greencastle, Ind. — "If you've never seen a Monon Bell game, as a football fan you ought to next year," WTHR's Steve Bartelstein said during the Indianapolis NBC affiliate's 11 p.m. newscast this evening as he recapped today's football game between DePauw University and Wabash College. He added, "It's what college football was all about and perhaps always should be -- an intimate meeting between rivals where school pride is as important as a win."
This year's game marked the 100th anniversary of the first football contest between the two schools.

[Download Video: "WTHR Highlights" - 1415kb] The piece includes highlights of the game, including junior tailback Terry Dickey's 2-yard touchdown run with 6:56 left in the game, which decided the outcome. When asked about the second effort he made to reach the end zone, Dickey says, "You can only give a second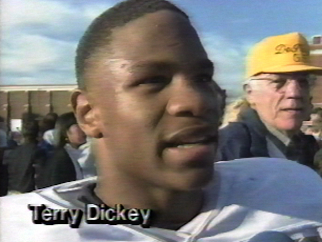 effort, or a third effort. You've got to do what it takes to get ahead in this game and that's what we all did."
Senior quarterback Brad Toone adds, "We've been a team all the way through. We pull together when we have to and we end up winning in the end and that's what it's all about."
The victory gives the Tigers and head coach Nick Mourouzis their fourth consecutive Bell triumph and their first Indiana Collegiate Athletic Conference football championship.
Earlier today, the 100th anniversary of the Monon Bell Classic was noted on ESPN's College GameDay:

[Download Video: "ESPN On the Rivalry" - 2801kb].
See a "Monon Memory" of today's game and visit the official Monon Bell Web page by clicking here.
Source: WTHR (NBC)/Indianapolis
Back