Prof. Matt Hertenstein Discusses Public's Fascination with Obama Daughters in UK's Observer
July 12, 2009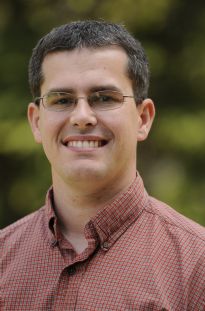 July 12, 2009, Greencastle, Ind. — An story in today's edition of Britain's Observer, the world's oldest Sunday newspaper, examines the publicity the daughters of President Barack Obama receive. "They face a level of interest unlike anything seen for any other two children on Earth today," Matthew J. Hertenstein, associate professor of psychology at DePauw University, tells the publication.
"Growing up in the White House is no easy task, but Malia, 11, and Sasha, eight, have adapted very quickly," writes Paul Harris. "They have become 'tween' sensations whose fashion tastes and styles rival Miley Cyrus, star of the Disney Channel's Hannah Montana TV series, in terms of influencing youngsters. They have toured the world as part of the First Family, wowing audiences and -- perhaps unwittingly -- becoming a powerful part of Obama's attempts to undo the international public relations damage caused by eight years of George W. Bush. They have gone from suburban Chicago to downtown Washington D.C. and a life of unbelievable privilege and exotic travel, mingling with presidents, pop stars and royalty. Yet at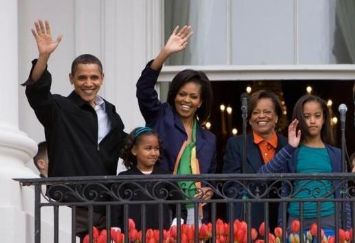 the same time they remain young girls, trying to grow up in a harsh glare of unprecedented publicity. It has forced the Obamas -- and the White House staff -- to indulge in a delicate balancing act of the personal and the political, wielding their image positively but also shielding them from the worst excesses of celebrity. It is no easy task, not least for the girls themselves." (above right: President Barack Obama and First Lady Michelle Obama are joined by their daughters, Sasha and Malia, and Michelle Obama's mother, Marian Robinson, April 13, 2009, as they wave from the South Portico of the White House to guests attending the White House Easter Egg Roll; Lawrence Jackson/White House).
Access the full text at the Guardian's Web site.
This spring, research led by Dr. Hertenstein -- which analyzed the childhood photos of subjects and whether they divorced later in life -- received worldwide attention in media outlets including the London Daily Mail, CNN,
the UK's Economist, the New Straits Times of Kuala Lumpur, Malaysia and NBC's Today.
Research conducted by Matt Hertenstein and his students at DePauw has previously been featured in American Baby and Prevention magazines, on the Canadian Broadcasting Corporation's program, The Nature of Things, in Sunrise magazine and the Toronto Sun, and on National Public Radio.
Visit Professor Hertenstein's Emotion Lab online by clicking here.
Back