HDNet, DePauw and Wabash to Again Join Forces for Monon Bell Telecast
August 5, 2009
Also: List of Tiger Telecast Parties;

[Download Video: "Ballad of the Monon Bell - 2007 Version" - 10,419kb]

[Download Audio: "Ballad of the Monon Bell - Stereo" - 6214kb]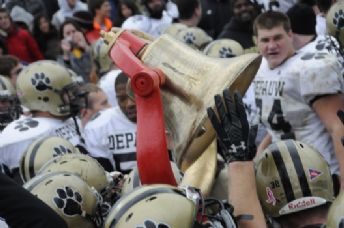 August 5, 2009, Greencastle, Ind. — For the fourth consecutive year, HDNet will again present a national telecast of the battle for the Monon Bell and plans are already in the works for telecast parties across the nation. The 2009 game between the Tigers and the Little Giants from Wabash College is scheduled for Saturday, November 14 at 1 p.m., and will be played at Blackstock Stadium. Headed into the 116th Monon Bell Classic, the historic rivalry is tied at 53-53-9 by virtue of DePauw's 36-14 triumph in last year's contest.

[Download Video: "2008 Monon Memory" - 4105kb]
"The HDNet team does an amazing job of capturing the excitement and action

on the field, the sidelines and the stands and delivering that to millions of homes and businesses across America," says Ken Owen '82, executive director of media relations at DePauw and the University's coordinator of the Monon Bell telecast. "Whether people want to watch the game at home or at a sports bar, HDNet is easy to find and provides the best coverage our game has received in the nearly 30 years its been televised. We're thrilled to continue this great partnership."

[Download Video: "2007 Monon Memory" - 7808kb]
"Besides reaching ardent fans of Wabash and DePauw, there's plenty of evidence that many people who have no connection to either school are seeing the game thanks to HDNet's ever-expanding
reach," says Wabash's Jim Amidon. "Introducing viewers to our colleges is an immeasurable benefit, and giving loyal fans of the rivalry a front-row seat to the game in high definition has brought this great tradition to new levels of awareness and engagement."

[Download Video: "1890 Monon Memory" - 4409kb]
"Coverage of the Monon Bell Classic is an autumn tradition for HDNet," according to Mark Cuban, president and co-founder of HDNet. "The competition between the two teams is always intense and our viewers love every minute of the action. It's college football at its best!"

[Download Video: "1955 Monon Memory" - 6739kb]
Launched in 2001 by Cuban and Philip Garvin, HDNet and HDNet Movies are available on AT&T, Charter Communications, Comcast, DirecTV, DISH Network, Insight, Mediacom, Verizon and more than 40 NCTC cable affiliate companies. Visit HDNet online.

[Download Video: "1932 Monon Memory" - 3518kb]
More than 1,900 enthusiastic alumni and friends
attended a record 66 Monon Bell telecast parties across the nation in 2008. Plans are in the works for this year's parties, and hosts are needed in some cities. For details, click here or contact Dana Coffin Moell '95, assistant director of alumni relations, at (877) 658-2586 or danamoell@depauw.edu.

[Download Video: "1981 Monon Memory" - 5633kb]
DVDs of 2001-08 Bell Battles are still available. Learn more, and order online, here.

[Download Video: "1965 Monon Memory" - 3120kb]
Access DePauw's Monon Bell Web page here. A complete roster of "Monon Memories" -- video highlights of past classics -- can be found here.
Back