Sophomore a "Valuable Addition" to Indiana Secretary of State's Office
July 16, 2009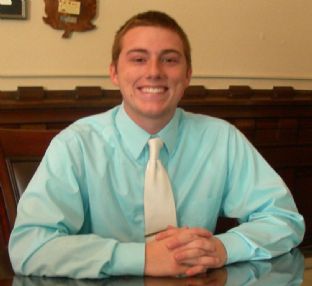 July 16, 2009, Greencastle, Ind. — "Sam exemplifies the kind of top-notch students we have here in Indiana," says Indiana Secretary of State Todd Rokita of Sam Spahn, who will be a sophomore at DePauw University this fall. Spahn is wrapping up a summer-long fellowship program, which selects college and university students from around the state and allows them the opportunity to experience state government first-hand by rotating through the Secretary of State's divisions.
Spahn, who is seeking a degree in political science, visited the Indiana House of Representatives during this summer's special legislative session.
"I love getting to meet elected and appointed officials," says the sophomore. "I often see these people on television discussing the big topics surrounding
the state of Indiana, and this fellowship has taken that interest several steps farther for me; I've been given multiple opportunities to meet with those elected officials to talk with them and discuss what makes them tick."
Of Spahn, Rokita says, "I feel that he is an individual who will help guide our state and country with his desperately-needed leadership in the coming years, and I'm thrilled to have him here, as he is a valuable addition to our office."
Read more by clicking here.
Back