Innovators Erin Donahue '09 and Ashley Myers '10 Spotlighted at Microsoft Conference
July 16, 2009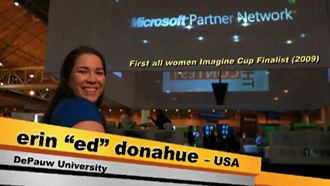 July 16, 2009, Greencastle, Ind. — Erin "Ed" Donahue, a May 2009 graduate of DePauw University, and Ashley Myers, who will be a senior in the fall, were featured in a video which was played Wednesday morning at the Microsoft Worldwide Partner Conference, which is taking place in New Orleans. Donahue and Myers were part of a team that finished as first runner-up in Microsoft's student competition, the Imagine Cup. Their team, "MangoBunnies," became the first all-women team to reach the finals in the competition's seven-year history.
The Worldwide Partner Conference, which is taking place July 13-16, "provides a forum to learn about the latest Microsoft products, programs, strategies, and cutting-edge technologies," according to the software giant. "More than any other Microsoft event, it prepares Microsoft partners to take advantage of new business opportunities, new business development strategies, and innovative solutions."
See a clip of the video by clicking here (Donahue and Myers appear about 1:40 into the clip, which runs about three minutes).
The third member of Team MangoBunnies is Malisa Vongskul, a student at Indiana
University - Purdue University at Indianapolis (IUPUI). They created a software application, called Computer-Assisted Medication Regimen Adherence (CAMRA), to assist HIV/AIDS patients who must undergo complex medication regimens. The software works like an alarm system: a patient can enter his or her medications -- which can number in the dozens -- on a schedule in his or her phone. When the time comes to take the medication, the phone rings or vibrates. It's a simple, yet effective solution to regimen adherence made possible by the ubiquitousness of mobile technology.
Learn more in this recent article.
Back