Louisville Courier-Journal Cites "Renowned Historian," Prof. John Dittmer
July 19, 2009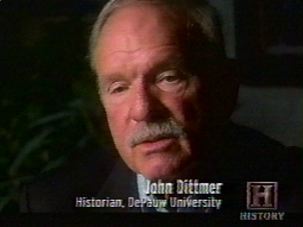 July 19, 2009, Greencastle, Ind. — "K'Meyer's study of civil rights in Louisville is part of a new wave of historical research, said renowned historian John Dittmer, professor emeritus at DePauw University and an expert on the civil-rights movement," notes a story in today's Louisville Courier-Journal. The article examines the book Civil Rights in the Gateway to the South by Tracy E. K'Meyer, which "found that Louisville's identity as a border town between North and South had a significant effect on the course of civil-rights progress here," according to the newspaper's Judith Egerton.
K'Meyer, associate professor of history at the University of Louisville, "has done an excellent job showing how Louisville fits -- not as a Southern city or a Northern city," Dr. Dittmer tells the Courier-Journal.
The story continues, "Kentucky has a 'tortured history in race relations,' Dittmer said, 'but Louisville was a city where there was much activity in the civil-rights movement.' K'Meyer's book documents instances of horrendous acts as well as courageous ones, he said. It also reflects the tradition of civility in Louisville, said Dittmer, with this reminder: 'What civility did, of course, was to ensure that blacks got only what whites wanted to give to
them.'"
Access the complete text by clicking here.
John Dittmer, professor emeritus of history, taught at DePauw from 1985 until his retirement in 2003. The professor's 1994 book, Local People: The Struggle for Civil Rights in Mississippi, won several awards including the Bancroft Prize, generally considered the most prestigious award in the field of American history writing. In May, he published The Good Doctors: The Medical Committee for Human Rights and the Struggle for Social Justice in Health Care, which was recently cited in the Chronicle of Higher Education and Mississippi's Jackson Free Press.
On May 17, Dittmer delivered the principal address to DePauw's Class of 2009 at the University's 170th commencement and received an honorary doctoral degree. A summary of his remarks and an MP3 file of the complete speech can be accessed in this report.
Source: Louisville Courier-Journal
Back