DePauw Dedicates $7.2 Million Lilly Physical Education and Recreation Center
April 24, 1982
April 24, 1982, Greencastle, Ind. — "I think it's great," DePauw senior Jim Underdown said today as the University dedicated its new, $7.2 million Lilly Physical Education and Recreation Center. "For an NCAA Division III facility -- and I've seen a lot of them -- it's second to none I've seen," he declared.
The new complex is named in honor of three leaders of Eli Lilly & Company, the great Indiana pharmaceutical firm that was started barely three blocks away. The Lilly Center's principal benefactor is Ruth Lilly, whose 1979 gift of more than $3 million is the largest in DePauw's history. The building memorializes her great-grandfather, Colonel Eli Lilly; her grandfather, Josiah K. Lilly Sr.; and her father, Josiah K. Lilly Jr. The latter two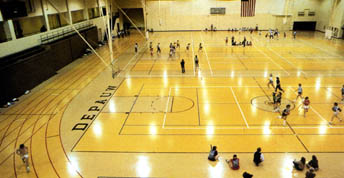 had attended Indiana Asbury's (later DePauw) preparatory school. Ironically, the Lilly's first drug store opened on the very street (Indiana Street) on which Lilly Center now stands.
"I must say that five years ago we did not know how we would build this facility," President Richard F. Rosser told the crowd of nearly 600 people gathered for the dedication. "It was her gift that gave us the impetus. We simply could not have done this."
DePauw's legendary 1933 football team -- the last in the nation to go undefeated, untied and unscored upon for an entire season -- raised $2.3 million for the project, and the fieldhouse is named in honor of their coach, the late Raymond "Gaumey" Neal. Fifteen members of the Depression-era squad (35 of the 39 are still living) made the sentimental journey to their alma mater for today's dedication ceremony.
The coach's son, Bob Neal '55, said the dedication of the Neal Fieldhouse was "probably the happiest day in the life of my mother," Genevieve Cottrell Neal '22.
Hundreds of other alumni, parents and friends contributed another $2 million toward the construction of the Lilly Center.
The new building replaces Bowman Gym, which was dedicated in 1916 when DePauw had 900 students. Besides the Neal Fieldhouse, which is surrounded by 3,200 portable seats, the building's other features include a full-sized auxiliary gymnasium; a 3,000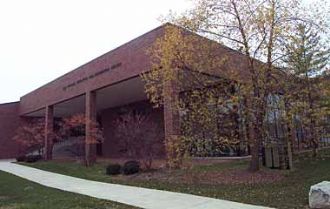 square foot multi-purpose room; a 1,600 square foot dance studio; six handball/racquetball courts; and a state-of-the-art natatorium with a pool measuring 25 meters by 25 yards.
"When you are recruiting, all you have to do is show the facility," according to Mary Bretscher, women's head swimming coach at DePauw. "The pool is so awesome that it almost does the recruiting for you."
Last night, Indianapolis ABC affiliate WRTV previewed today's ceremony and offered viewers a look around the new center. Access the video clip via this story.
Back