Documentary by Ross Robinson '09 Set for Bloomington Premiere
July 20, 2009
July 20, 2009, Greencastle, Ind. — Soldier to Civilian, a new documentary by 2009 DePauw University graduate Ross Robinson, "will have its Bloomington premiere on Thursday at 9 p.m. at Boxcar Books," note both the Banner-Graphic of Greencastle and the Bloomington Herald-Times today. "A timely and provocative documentary, Soldier to Civilian features interviews with German and American soldiers who served in Afghanistan. Veterans give first-hand accounts of life in a war zone and reflect on their experience returning to civilian life."
The newspapers note Robinson's DePauw degree and that his work on the film began in January of this year. "He traveled throughout Germany, interviewing German soldiers and reserves and striking up conversations with civilians on the street. Upon his return to the United States, Ross interviewed American soldiers and reserves in March and April 2009. Through candid and often poignant interviews, veterans share their perspectives on the daily life of a soldier, the meaning of patriotism, and the difficult transition back to civilian life."
According to Robinson, "Several interviewees said that they had never had the chance to really talk in depth to anyone about their experiences and described their participation in the film as therapeutic."
Learn more about the film and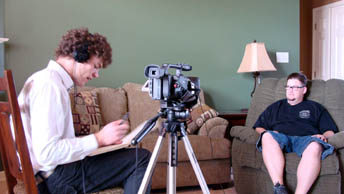 Thursday's free screening at the Banner-Graphic's Web site.
A double major in communications and German at DePauw, Robinson will spend the coming academic year in Germany teaching English to young people as a result of receiving an international graduate study and research grant through the 2009-10 Fulbright U.S. Student Program competition. His work will also include creation of another documentary. Details are contained in this recent story.
In a May op-ed column, Kevin Howley, associate professor of communication at DePauw, called Robinson's documentary "undeniably provocative."
Back