Angie Hicks '95 Receives Clarion Award
July 23, 2009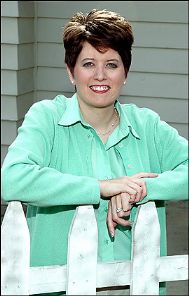 July 23, 2009, Greencastle, Ind. — Angie Hicks, founder of Angie's List and 1995 graduate of DePauw University, has received a Clarion Award for a package of three of her monthly columns in the magazine which is sent to members. The award was one of two presented to Angie's List by the Association for Women in Communication, an Alexandria, Virginia-based professional organization.
Hicks' winning articles dealt with environmental awareness (April 2008 issue); online health care ratings (May); and the harmful effects of improperly dealing with lead-based paint (October).
"We're happy to be recognized for keeping our members as clued-in to important consumer trends and issues as they can be," Hicks said. "We put a lot of hard work into staying abreast of issues and bringing interesting news to our members, and it's nice to see that work rewarded."
The monthly magazine is delivered to Angie's List members each month, either in print or electronic form, depending on the specific market. The publication joins Philadelphia magazine, Business Week and Newsweek as
the only magazines to win multiple Clarion Awards from AWC.
Read more here.
Angie's List is where thousands of consumers share their ratings and reviews on local contractors and companies in more than 425 different categories. Currently, more than 750,000 consumers across the U.S. rely on Angie's List to help them find the right contractor or company for the job they need done.
Learn more about Angie Hicks -- who was an economics major and Management Fellow at DePauw-- in this recent article.
Back