Junior is Raising Awareness of Climate Change
July 24, 2009
July 24, 2009, Greencastle, Ind. — "I think there've been a lot of people excited about what they can do for their environment," DePauw University junior Victoria Googasian tells the Patriot-Ledger of Quincy, Massachusetts. Fred Hanson writes that Googasian is among "a group of six college students (that) will bicycle into Braintree on Friday to call attention to the issue of climate change. The group is one of three touring the state as part of Massachusetts Power Shift's Mass Climate Summer project."
The newspaper adds, "During their stay in Braintree, the group will be going door to door to collect signatures on a petition seeking bold solutions to the problem of global warming. The students will also hold a symposium on clean energy." Approximately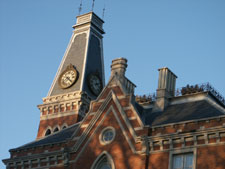 1,500 signatures have been gathered this summer. "Googasian said the group of students has bicycled from Deerfield to Barnstable, and will finish its two-month volunteer effort on Aug. 1 in Boston. There are 20 riders divided among the three teams, she said."
You'll find the full story -- "College students pedal to call attention to global warming" -- at the paper's Web site.
Back