Lee Hamilton '52 to Co-Chair New National Security Preparedness Group
July 26, 2009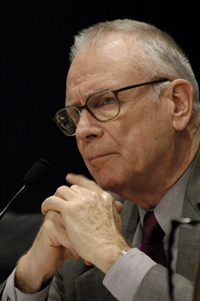 July 26, 2009, Greencastle, Ind. — "Key members of the original 9/11 Commission are banding together to rekindle the sense of urgency felt after the 2001 attacks and pressure the government to act on the commission's unfinished business," reports CNN. "The new group, headed by 9/11 Commission co-chairs Thomas Kean and Lee Hamilton, said Congress has adopted about 80 percent of the recommendations, made five years ago in the commission's landmark report, but has left troublesome security gaps," according to the network. Hamilton is a 1952 graduate of DePauw University.
Like the 9/11 panel, the new National Security Preparedness Group will be bipartisan. Unlike the previous commission, which was mandated by Congress, the NSPG "has no official status and is relying on the prestige of its members to give it clout." (at right: 9/11 Commission co-chairs Kean and Hamilton deliver their panel's report to President Bush; July 22, 2004)
Learn more at CNN.com.
Lee Hamilton, a Democrat who served 34
years in the U.S. House of Representatives, also co-chaired the Iraq Study Group and has been called "Mr. Integrity" by Newsweek. He is is president and director of the Woodrow Wilson International Center for Scholars and was recently reappointed to the Department of Homeland Security's Advisory Council (HSAC).
In a 2007 interview, Hamilton stated, "I had an undergraduate experience at DePauw University that certainly opened my eyes to a lot of possibilities." Learn more in this story.
Back