Early Demo of Ballad of the Monon Bell is Discovered
July 31, 2009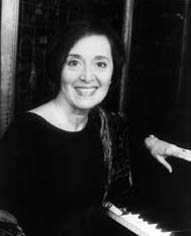 July 31, 2009, Greencastle, Ind. — A newly-discovered early demo of The Ballad of the Monon Bell, performed by Nancy Ford, award-winning Broadway composer and 1957 graduate of DePauw University, is now available for your enjoyment. Recorded in 1985, the tape features Ford, who wrote the music to Ballad, performing the then-new song at her piano in New York City. A cassette tape with a handwritten label contained the musical gem, which had been sitting in a closet for the past 24 years.
The song was a unique collaboration between four DePauw alumni. In 1985, Pat Aikman '57, who was director of public affairs for DePauw, had the idea that a song would enhance the football rivalry between DePauw and Wabash College, which began in 1890. Aikman reached out to Darel Lindquist '68 to work up a set of lyrics. The project was then handed to Nancy Ford '57, whose musical credits include Broadway's I'm Getting My Act Together and Taking It On the Road. The music she crafted (and which is featured in the demo, which was recorded in August of 1985) was sent to Jimmy Ibbotson '69 of the Nitty Gritty Dirt Band,who worked up a country and western arrangement and brought
together a group of musical friends for an October 15, 1985 recording session.
The Ballad of the Monon Bell made its debut a month later during the telecast of the annual football rivalry and has become a fan favorite.
"I'm certain that those who love The Ballad will really enjoy hearing this very early run-through," says Ken Owen '82, executive director of media relations at DePauw, who discovered the tape. "It's wonderful that three extremely talented alumni were able to collaborate in what is essentially a musical chain letter, and this recording allows you a peek at the process. I thank Nancy Ford for allowing us to share this with others. It's a real slice of history in a series that is packed with legends."
Owen has created a music video to accompany the demo. See it here:

[Download Video: "Demo of Ballad" - 9417kb].
Hear the final version of Ballad as performed by Jim Ibbotson:

[Download Video: "Ballad of the Monon Bell - 2007 Version" - 10,419kb]

[Download Audio: "Ballad of the Monon Bell - Stereo" - 2514kb].
Nancy Ford composed the music for shows including I'm Getting My Act Together and Taking It On the Road, The American Girls Revue and Anne of Green Gables, all of which were collaborations with her DePauw classmate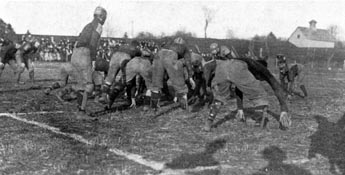 Gretchen Cryer '57, who wrote book and lyrics. A new musical by Ford and Cryer, Einstein and the Roosevelts, received its world premiere at DePauw last October. Details can be found in in this previous story. (photo: 1906 DePauw-Wabash game)
Ford has received a number of awards including two Emmys, an Obie, a Drama Desk Award, an Outer Critics Circle Award, two Writers Guild awards, and two honorary doctorates.
Back