Lynn Morris '84 to Display Work at Charlevoix Waterfront Art Fair
July 30, 2009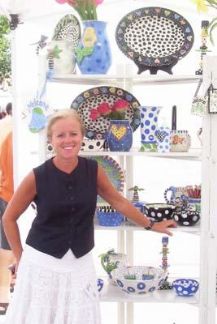 July 30, 2009, Greencastle, Ind. — "Lynn Morris is one of dozens of artists who will display their work during the 51st Charlevoix Waterfront Art Fair on Aug. 8," reports Michigan's Charlevoix Courier today. "A studio art major from DePauw University in Indiana, with a master's of art from Penn State University, Morris says that she is always changing to keep her style fresh," notes the paper, which says she'll be bringing her "cheerful ceramics" from the St. Louis area.
A 1984 graduate of DePauw, Lynn (Beimdiek) Morris tells the Courier, "I paint free hand using bright colors and whimsical subject matter. A low fire white clay and low fire under glaze gives me the quality of vibrant colors I want."
Anne Kelly writes, "This year she will be bringing 'a winter's worth of
work' and will have clay and wood plaques to add to her unique collection."
Read the full story, "Artists flock to 51st waterfront art fair," by clicking here.
Back