Junior Swimmer Competing at State Championships
July 30, 2009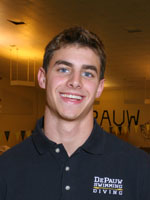 July 30, 2009, Greencastle, Ind. — Josh Baugh, who will be a junior at DePauw University this fall, "is one of 14 Sugar Creek Swim Club members who will compete in today through Sunday's Indiana Senior State Long Course Meters Championships at the IU-Bloomington campus," reports the Paper of Montgomery County.
The story begins by stating that the swim club's coach, Mark Hesse, "thinks he has the swimmer who could provide one of the most surprising finishes in this weekend's Senior State meet. Josh Baugh has fresh legs, remains energized and has an upbeat attitude about this meet."
"It's probably because he hasn't seen me much this summer," jokes Baugh, who has spent the summer working for a roofing company. He will swim in a team-high nine events and notes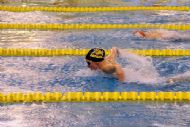 the coach "always has high expectations for me, which is good. He's looking forward to seeing me swim and I'm looking forward to seeing myself swim. I haven't had as much opportunities to swim this summer."
Read more at the newspaper's Web site.
Back