Junior Advances to Finals of City's Tennis Tournament
July 31, 2009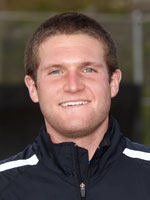 July 31, 2009, Greencastle, Ind. — Hunter Schouweiler, who will be a junior at DePauw University this fall, has advanced to the finals of the Fort Wayne, Indiana, city tennis tournament. By virtue of defeating Derek Carpenter yesterday, Schouweiler "will play eight-time city champion and No. 1 seed Ryan Recht during Monday's 5:30 p.m. finals at Swinney Tennis Center," reports today's Fort Wayne News-Sentinel.
Schouweiler, the #3 seed in the tournament, and Carpenter, #2, "are best friends off the tennis court and practically twins on it," writes Blake Sebring.
"He probably beats me three or four out of five times," Schouweiler says of Carpenter. "I just tried something a little different. I know I can't outhit him so I just tried to roll everything deep. I know sometimes he tries to go for a little too much and gets impatient, so I tried to make him play that."
Read the full story at the newspaper's Web site.

Learn more about Hunter Schouweiler and the DePauw men's tennis team by clicking here.
Back