DePauw, Birthplace of the Society of Professional Journalists, Noted in TV Week
August 3, 2009

August 3, 2009, Greencastle, Ind. — "When the Society of Professional Journalists was founded as a journalistic fraternity at DePauw University in Greencastle, Ind., in 1909, few could have imagined the upheavals that now roil the profession," begins an a TV Week article. "But as it celebrates its 100th anniversary, the nation's oldest journalism organization, founded as Sigma Delta Chi, can credit its survival to its ability so far to keep pace."
Elizabeth Jensen writes, "Although SPJ, which became a professional organization in 1916, weathered a rough patch a decade ago, the next few years may prove far trickier." Her story notes the challenges facing the organization, not the least of which is the precarious economic condition of many media companies.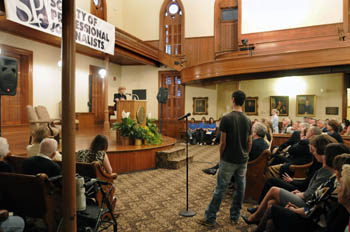 You'll find the complete text here.
On May 6, 1909, a story on the front page of The DePauw Daily announced that ten DePauw University student-journalists had formed Sigma Delta Chi, a journalism fraternity. Now known as the Society of Professional Journalists, it is the nation's most broad-based journalism organization.
In April, DePauw hosted a day-long celebration of SPJ's 100th anniversary, which featured a keynote address by award-winning journalist Jane Pauley. Read more in this previous article.
Back