Howard Dean & Karl Rove to Debate Issues at September 11 Ubben Lecture
August 8, 2009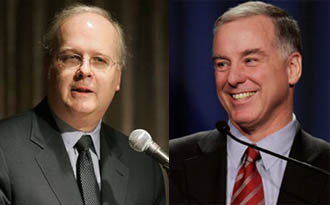 August 8, 2009, Greencastle, Ind. — Two heavyweights on the national political scene -- Howard Dean, who recently completed a four-year term as chairman of the Democratic National Committee, and Karl Rove, the former chief political adviser to President George W. Bush -- are coming to DePauw University on Friday, September 11. In a Timothy and Sharon Ubben Lecture, the two men will engage in a debate on "America in 2009: Challenges and Opportunities." The program will take place at 7:30 p.m. in Kresge Auditorium of the Green Center for the Performing Arts (605 S. College Avenue).
Like all Ubben Lectures, the program is free and open to all. Seating is general admission and no tickets are required.
A physician, Howard Dean served as governor of Vermont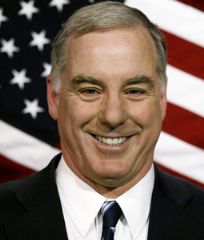 from 1991-2003. His groundbreaking 2004 campaign for the Democratic presidential nomination and subsequent four years as chair of the Democratic National Committee have provided him with both an insider's view and a reformer's commitment to the economy, foreign trade policy and international relations. As former chair of the National Governor's Association he also has vast knowledge of domestic issues. Governor Dean recently released a new book, Howard Dean's Prescription for Real Health Care Reform.
Karl Rove has been described by respected author and columnist Michael Barone in U.S. News & World Report as "unique ... no presidential appointee has ever had such a strong influence on politics and policy, and none is likely to do so again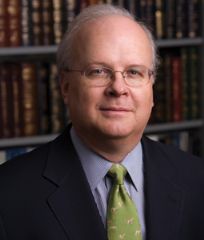 anytime soon." As deputy chief of staff and senior adviser to President Bush, Rove solidified his reputation as a master strategist whose "game has always been long term," as columnist David Broder wrote, "and he plays it with an intensity and attention to detail that few can match." Now a columnist for the Wall Street Journal and Newsweek and FOX News contributor, Rove was ranked #1 on both the UK's Telegraph list of the "50 Most Influential Political Pundits in America" as well as New York magazine's "Most Popular Political Pundit Index."
The evening's format will allow members of the DePauw community to present the issues and questions for Mssrs. Rove and Dean. Details will be announced soon.
Established in 1986 through the generous support of 1958 DePauw graduates Timothy H. and Sharon Williams Ubben, the Ubben Lecture Series was designed to "bring the world to Greencastle" and presents events which are available for students, faculty, staff, alumni and the local community to enjoy. Previous guests have included Benazir Bhutto, Tony Blair, Shimon Peres, Doris Kearns Goodwin, Spike Lee, Peyton Manning, Mitch Albom, General Colin Powell, Greg Mortenson, Elie Wiesel, Ken Burns, Todd Rundgren, General Wesley Clark, Naomi Wolf, David Plouffe, Harry Belafonte, E.O. Wilson, Jesse
Jackson, Ambassador L. Paul Bremer, David McCullough, Paul Rusesabagina, Margaret Thatcher and Jane Pauley. (at right: Tony Blair meets with DePauw students and alumni at the Prindle Institute for Ethics; March 3. 2008)
To view a complete roster of Ubben Lecturers -- which includes links to video clips and news stories -- click here.
A video retrospective of the Ubben Lecture Series -- produced by DePauw students -- was premiered in June 2008 over Alumni Reunion Weekend. Read about the project, and see the piece, via this article.
Back