Voters Must Weigh Response to "Dismaying Revelations," Writes Lee Hamilton '52
August 4, 2009
August 4, 2009, Greencastle, Ind. — "As happens every so often, we have recently been through a spate of embarrassing reports about the lives of prominent public officials," writes Lee H. Hamilton, veteran statesman and 1952 graduate of DePauw University, in a newspaper op-ed. "Adulterous affairs by Nevada Sen. John Ensign, South Carolina Gov. Mark Sanford, and former presidential candidate John Edwards, entanglements in prostitution by Louisiana Sen. David Vitter and former New York Gov. Eliot Spitzer -- these are just the latest in a long line of dismaying revelations about people in whom the American voters once put their trust."
Hamilton's column examines the fallout of actions by elected officials "that raise issues about their judgment, self-control, and basic integrity. They are public figures, but they are also all too human, with all the strengths and flaws that attach to the human condition. The question, of course, is what do we do when their private lives go off the rails? And the answer, I'm afraid, is that there is no answer: Each of us can only respond according to his or her own lights." (at right: Hamilton talks with DePauw students in historic East College)
The man who served 34 years in the U.S. House of Representatives and is now president and director of the Woodrow Wilson International Center for Scholars notes, "sometimes -- rarely to be sure -- the House or Senate takes action to remove the member from Congress. Yet other times he may leave because of actions taken by the courts. And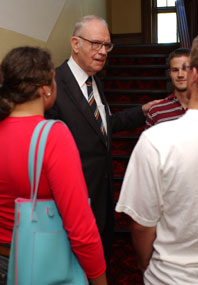 sometimes he decides to resign from office midterm or not run for re-election. Yet often the decision is left up to the voter, and in that case each of us will have to make our own judgments."
The Democrat concludes, "As voters, we're asked all the time to make decisions about politicians based on incomplete or insufficient information. When an elected official misbehaves, all we can do is make the best decision we can, rooted in what we know about the case and our own personal reaction."
You'll find the complete essay, which is published in several newspapers across the country, at the Web site of the Day of New London, Connecticut.
Lee Hamilton, who co-chaired the 9/11 Commission and Iraq Study Group, is now co-chairing the new National Security Preparedness Group. Details can be found in this recent story.
Back